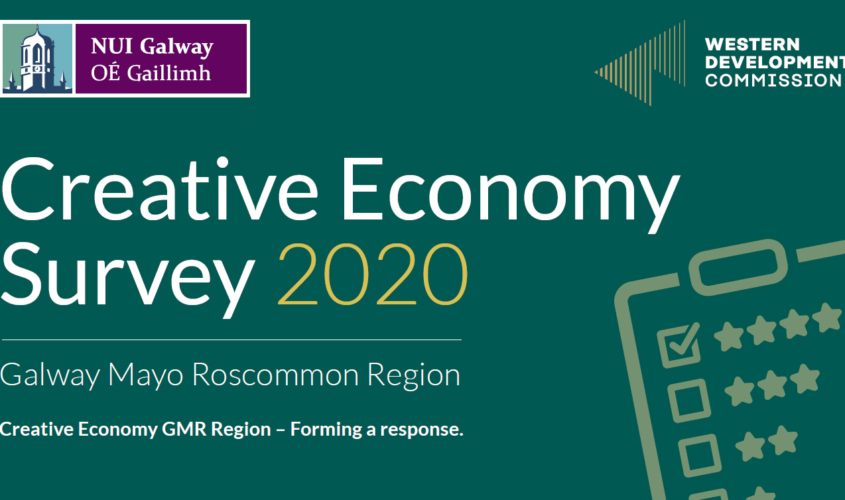 Creative Economy Survey Galway, Mayo, Roscommon region
The Western Development Commission (WDC)1, in reference to its on-going support of the Regional Enterprise Plan West2, strategic objective on supporting the Creative economy in the Galway Mayo Roscommon region would kindly request your input to understand the current needs and opportunities of this vital, indigenous sector and how it impacts our wider Western offering .
As such we ask you to support this initiative in two ways :
1.  Please complete this Short Survey
2.  Please forward the link to Creative economy SME's and Networks in the Galway, Mayo, Roscommon region to enable them to contribute .
For the past 14 years, the Western Development Commission, with regional partners have  sought to support the creative sector in the West of Ireland. Through a number of Key Initiatives we have attempted to better understand the needs and better facilitate the development of what we consider a sector of crucial importance to the region.
With the onset of the global pandemic, the time has come to evaluate the next steps for a sector disproportionately exposed by health restrictions. To this end we encourage you to fill in the following survey. Carried out in conjunction with colleagues at NUI Galway and other supporting agencies we seek to better understand how COVID 19 is affecting you, your work and the potential path towards recovery.
The potential in the Galway, Mayo, Roscommon (GMR), region is evident as according to recent research  commissioned by the WDC the total value of the CE in the GMR region totalled almost half a billion euros  and  employed over 7000 people, a strong and growing indigenous sector which also supports FDI through quality of life enhancement.
https://www.spot-lit.eu/wp-content/uploads/creatiive-economy.jpg
754
1455
spot-lit-admin
https://www.spot-lit.eu/wp-content/themes/master/images/spotlit-npa-eu.png
spot-lit-admin
2020-09-29 16:10:06
2020-10-12 10:43:49
Creative Economy Survey Galway, Mayo, Roscommon region