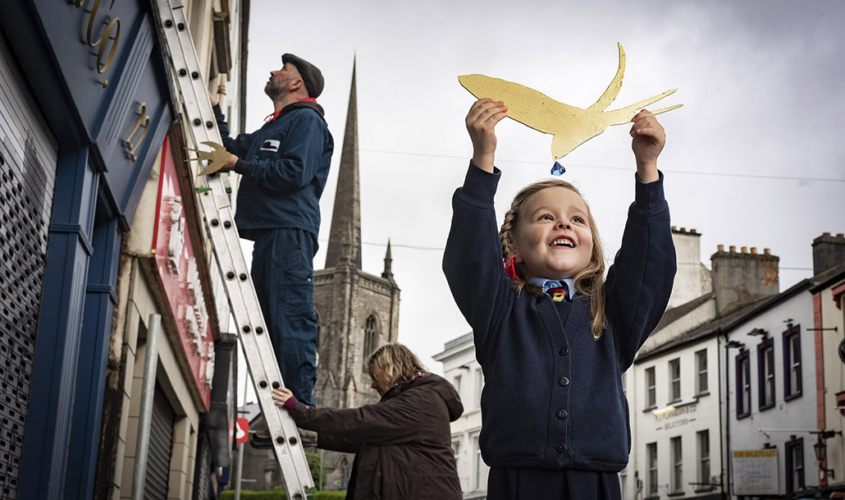 A Wilde idea for Revitalisation of Enniskillen.
Oscar Wilde Literary Tourism project launches in Co. Fermanagh
This week (10th May) sees the launch of the first phase of Wilde Island Town (WIT): Home of the Happy Prince, a Literary Tourism project which aims to stimulate new year-round tourism for County Fermanagh and to offer timely support for the revitalisation of the Enniskillen High Street.
The initial phase of the project will see the installation of 150 little swallows in gold leaf in and around Enniskillen centre, on the exterior facades of retail stores and community buildings including its schools.
According to Sean Doran Artistic Director of Arts Over Borders, the organisation delivering the project, the Swallows installation is a fitting start to the project as the swallow symbolises optimism and hope and builds upon Oscar Wilde's association with Enniskillen. The number of swallows is also significant as 2021 marks the 150th anniversary of Wilde leaving Enniskillen where he had lived as a boarder at Portora Royal School from 1864-1871.
"Enniskillen was the longest Oscar Wilde lived anywhere outside his birthplace in Dublin and married years in London," said Sean. "It is believed that his children's story The Happy Prince was first inspired by Wilde looking out from his dormitory window at Portora Royal School across the island town to the opposite hill where stood Cole's statue high above the town.
"This belief is the central tenet in an idea that will draw upon Wilde's association with Enniskillen to drive tourism and help to revitalise the town and its surrounds as we move out of periods of lockdown that have impacted heavily on the retail, tourism and hospitality sectors."
Literary Tourism is an emerging niche sector within the wider cultural tourism sector, where places with literary heritage offer author and fiction-related literary tourism opportunities, along with opportunities arising from literary festivals, trails and book shops. In Northern Ireland and the Republic of Ireland border counties, the potential for literary tourism is particularly rich and unparalleled worldwide through its literary heritage with Seamus Heaney, C S Lewis, W B Yeats, Brian Friel, Jonathan Swift, Flann O'Brien, Patrick Kavanagh and of course Samuel Beckett and Oscar Wilde school day associations in Enniskillen.
Bernie Mooney, Project Manager said, "significantly, this project is part of a wider European Initiative, the NPA funded Spot-lit programme, supporting economic development through the vehicle of literary tourism and Enniskillen will benefit greatly from the additional visibility and growth this will bring to the area."
A key issue that Wilde Island Town will address is seasonality for Enniskillen and Fermanagh. The current reality is that it is principally a summer only tourism destination. Wilde Island Town aims to ignite the spark to transform the area in the future into a year-round 365-day tourism destination associated with Oscar Wilde. It will holistically connect place, events, performances, businesses and community.
Sally Rees, Project Support, who is working with local businesses and organisations on the installation, says that people across the town are delighted to be involved as they recognize that The Flight of The Little Golden Swallow will have a positive impact felt by the whole community.
"The project has already captured the collective imagination of people here and that is testament already to the power it will have. WIT will demonstrate how an entire urban town and community in all its facets of business, culture, education, tourism, services, leisure, hospitality industry, etc. can be holistically brought together and united under a single literary tourism concept, a case of the whole being made greater through this model than the sum of its parts.  It's very exciting."
Among those who have welcomed the project is Enniskillen's Business Improvement Task Team. Commenting Noelle McAloon said: "Many of the town's businesses have been affected by the lockdown and are very relieved now to be re-opening.  To the last one, the businesses who have been approached to become involved in the initiative are delighted by the innovation and artistry of the project and believe it will have a positive impact."
The project builds on the work laid down by the Arts Over Borders destination literary tourism events in Enniskillen and Fermanagh on Samuel Beckett and Oscar Wilde that have been developed there since 2012. These are short 3-4 day festivals only and do not have the continuous year- round impact that Wilde Island Town seeks to develop. However, these existing Literary Tourism events have established the process of associating literary tourism with this part of the world.
https://www.spot-lit.eu/wp-content/uploads/dsc08486-1030.jpg
687
1030
spot-lit-admin
https://www.spot-lit.eu/wp-content/themes/master/images/spotlit-npa-eu.png
spot-lit-admin
2021-05-11 16:44:03
2021-05-11 17:11:36
A Wilde idea for Revitalisation of Enniskillen.