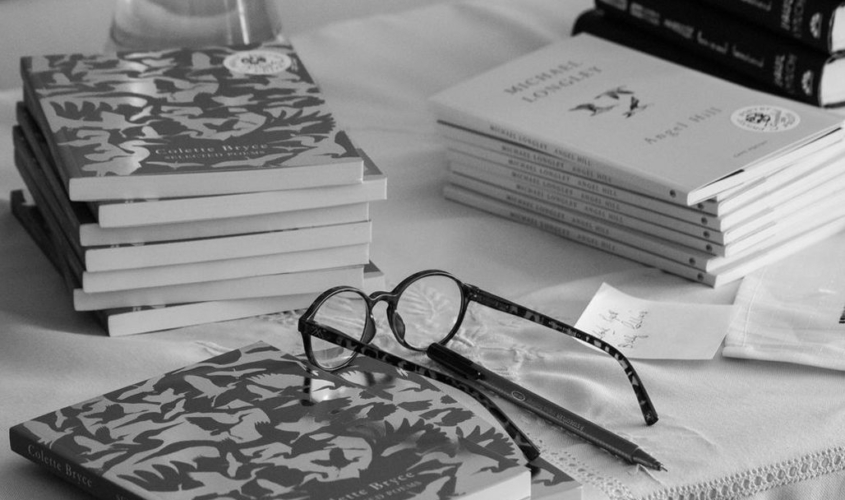 An Overview of Literary Tourism along the Wild Atlantic Way
It has long been recognised across the world as a nation of great writers, poets and playwrights with no fewer than four Nobel Laureates for Literature in George Bernard Shaw, Samuel Beckett, Seamus Heaney and WB Yeats. Its capital city, Dublin is a UNESCO City of Literature, home to Oscar Wilde, James Joyce and many more. 
Literary tourism is a core element of Ireland's tourism brand spanning festivals, immersive experiences, attractions, landmarks, tours, summer schools and workshops. Together, these provide the visitor with a year-round choice of authentic literary experiences.
We invited Susan O'Keeffe, journalist and Director, Yeats Society Sligo, to give an insight into the literary heritage that spans the length of the Wild Atlantic Way, and that continues to inspire contemporary writers and visitors alike. 
The light in the western sky, the roar of the Atlantic waves, the birds soaring and wheeling above the rugged coastline, coupled with its great Celtic myths and legends, have long provided 'soul food' for so many of Ireland's greatest poets and writers.
Ireland's Atlantic seaboard continues to nourish and challenge the creative spirit of those who make their home here, visitors from across the world seek out this magical coastline, drawn to its inspirational energy and the beauty of its surrounding landscape.
In the West of Ireland in the area which forms part of the NPA region, both Sligo and Galway deliver a significant sense of place associated with the poet WB Yeats. They offer specific literary experiences for the culturally motivated and for visitors interested in 'all things Irish.'
No surprise that Yeats, described Sligo, at the heart of the north-west, as his spiritual home and chose to be brought back to this county to be buried 'under bare Ben Bulben's head; its majesty and mystery an enduring draw for Yeats who wrote about his childhood memory of climbing the famous mountain in the summertime to go fishing.
The world's longest literary school, Yeats International Summer School, celebrated its 60th birthday in 2019. It offers students of all ages a ten-day opportunity to delve more deeply into Yeats' work while immersing themselves in the mountains, the lakes and the history of Sligo itself.
The School has been instrumental in creating the idea of a visitor experience which is immersive, authentic and rooted in a sense of place – long before these concepts were part of the tourism landscape. It has also enhanced the name of Sligo around the world and ensured Ireland's national poet and Nobel Prize winner remains as relevant today as when his work was first published in the late 19th century.
Arguably too, Yeats has helped to create a specific subset within the culturally curious market. These are the cultural pilgrims who choose Ireland because of its rich literary heritage and want to visit the spaces and places that writers and poets, familiar to them, have evoked and presented in their works.
They visit Tuamgraney Co Clare, the backdrop to that great 1960s work Country Girls by Edna O'Brien. They find in Leitrim the influences which created in John McGahern one of the great 20th century Irish novelists. Lady Augusta Gregory, a great friend of WB Yeats was a playwright, biographer and poet and her great estate Coole Park in Co Galway, was a melting pot for the Irish Literary Revival, a touchstone for all literary visitors to this country.
Co Cork's famous sons, Seán O'Faoláin, William Trevor and Frank O'Connor were extraordinary story writers whose works will endure, along with those of Brendan Kennelly and John B Keane in neighbouring Co Kerry. The extraordinary dramatist Brian Friel spent much of his life in Greencastle, Co Donegal. His many plays evoked the changing Ireland of the 20th and he came to be called Ireland's Chekhov.
Our literary giants have inspired a great new generation of writers born and/or living on or close to the wild western seaboard; poets Elaine Feeney, Eiléan Ní Chuilleanáin, Rita Ann Higgins, Martin Dyar, Doireann Ní Ghriofa and writers Kevin Barry, Eoin McNamee, Sally Rooney, Mike McCormack, Alice Lyons, Una Mannion, Louise Kennedy, Frank McGuinness  – to name but a few.
These and many others are creating a new literary Ireland, as is evidenced by the many successful and varied literary festivals that take place annually from Donegal to Dingle.  Together, these festivals and workshops provide rich and varied opportunities for locals and visitors alike to meet with writers, hear them speak about their life and work, attend workshops on drama, poetry, fiction and non-fiction writing and be inspired by their love of place and the writers who inspired them. Together, these form the public face of the very private experience of writing.
Literary Festivals, Schools & Events
Here are the key festivals and schools across the Wild Atlantic Way
Doolin Writers' Weekend, Co Clare; workshops, publishing advice, readings, January – http://doolinfestivals.ie/writers-weekend.html
Yeats Winter School weekend, Sligo; readings, talks, tour and music, inspired by WB Yeats, January
https://www.yeatssociety.com/event/yeats-winter-school-2020/
Limerick Literary Festival, Limerick; honouring writer Kate O'Brien and celebrating writers, books, artists and readers and awarding the Kate O'Brien short story award, February
http://limerickliteraryfestival.com/
Cork Poetry Festival, Cork city; concentrates on poetry readings. March. http://corkpoetryfest.net/programme.html
Cuirt International Festival of Literature, Galway city; celebrates national and international writing across poetry, literature, non-fiction and genre writing. March.
https://www.cuirt.ie/
Listowel Writers' Week, Listowel, Co Kerry; 50 years old, inviting readers and writers to celebrate literature together through talks, tours, readings and interviews. May.
https://writersweek.ie/
Yeats Day Festival; celebrates WB Yeats' birthday, Sligo; music, poetry readings and cake. 13 June.
https://www.yeatssociety.com/event/yeats-day-festival-from-home/
Cairde Sligo Arts Festival, Sligo; eight days to celebrate all forms of artistic engagement. July. https://cairdefestival.com/
Galway International Arts Festival, Galway; celebrates all forms of artistic engagement across 13 days. Mid-July
https://www.giaf.ie/
Eargail Arts Festival, Letterkenny, Co Donegal; an 18-day international festival of the arts. July
https://eaf.ie/
Yeats International Summer School, Sligo; celebrates the work of WB Yeats & contemporary poetry, including poetry workshop, tours and talks. July
https://www.yeatssociety.com/yeats-summer-school/
Cape Clear Island International Story Telling Festival, Cape Clear island off the coast of Co Cork; celebrates the ancient Irish tradition of storytelling on this unspoilt island. August
https://capeclearstorytelling.com/
Clifden Arts Festival, Galway https://www.clifdenartsfestival.ie. September
Wild Atlantic Words Literary Festival, Castlebar, Co Mayo; celebrates the literary heritage of the Atlantic coast and supports emerging writers. October
https://www.wildatlanticwords.ie/
Allingham Arts Festival, Ballyshannon, Co Donegal; honours and celebrates 19th century poet William Allingham with readings, film, and fiction and poetry competitions. November
https://www.allinghamfestival.com/
Literary Destinations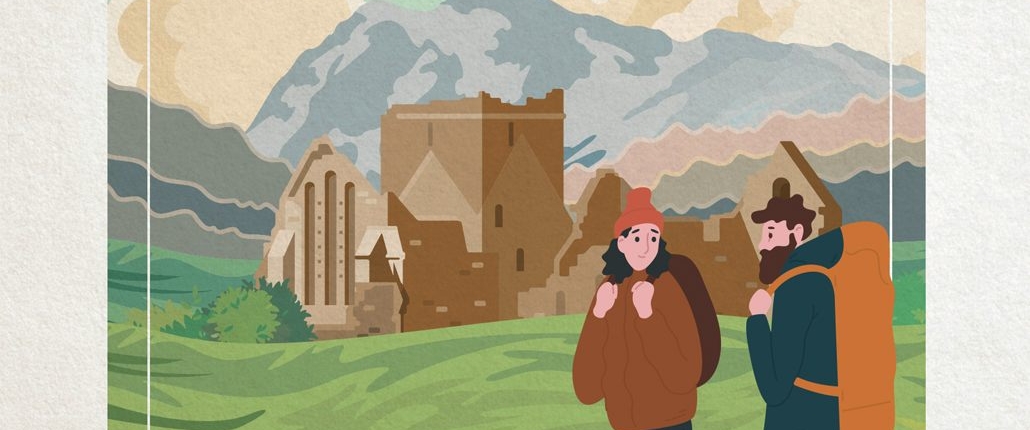 This ocean coastline is rich in authentic stories, rooted in the ancient tales and legends of love and loss, conquest and battle, life and death. The fusion of history, landscape and the wild ocean energy continues to inspire modern writers and poets and it will never fail to inspire visitors from all corners of Ireland – and the globe.
The list below showcases just a number of literary destinations along the Atlantic Seaboard of Ireland's west coast for visitors to immerse themselves in;
Sligo: the Yeats Building in Sligo and the poet's grave in Drumcliffe;
Streedagh beach in North Sligo was the backdrop for one of the scenes in the television series of Sally Rooney's 'Normal People'
Mayo: German writer Heinrich Boll's famous cottage on Achill Island;
Kiltimagh, where Antoine Ó Raifteirí the Irish language poet was born and where stands a memorial produced by artist Sally Mc Kenna.
Leitrim: Ballinamore, Co Leitrim is home of John McGahern;
Galway: the tower – Thoor Ballylee Gort, Co Galway, was occasional home to WB Yeats;  a sculpture of poet Antoine Ó Raifteirí is in the Village Green of Craughwell Co Galway
Limerick: the laneways of writer Frank McCourt's childhood,
Galway: the Aran Islands that inspired the mould-breaking playwright JM Synge;
Cork city, beloved of Frank O'Connor
Kerry: The Blasket Islands of Co Kerry were home to Peig Sayers who wrote, in Irish, her autobiography of life on the Great Blasket.
Susan O'Keeffe is Director, Yeats Society Sligo
Useful Links:
Tourism Ireland's webpage on 'Normal People' and Sligo
Images Courtesy of Ireland's Content Pool 
https://www.spot-lit.eu/wp-content/uploads/medium-glasses-resting-on-a-bookweb.jpg
677
1028
spot-lit-admin
https://www.spot-lit.eu/wp-content/themes/master/images/spotlit-npa-eu.png
spot-lit-admin
2020-06-10 12:10:05
2022-04-25 12:12:37
An Overview of Literary Tourism along the Wild Atlantic Way