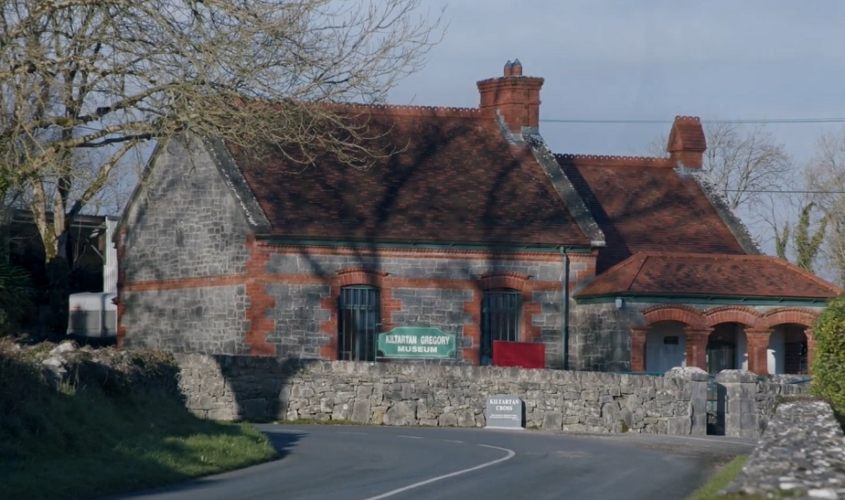 A new short film has been developed highlighting the collection of Lady Gregory and the treasure trove of Coole Park artifacts contained in the Kiltartan Gregory Museum.  The film highlights the connection between Raftery an file and WB Yeats to the famed Kiltartan Cross in South Galway, Ireland.   Filmed in conjunction with Yeats Thoor Ballylee Society at Kiltartan Gregory Museum with support The Western Development Commission and  SpotLit.eu.
Kiltartan Gregory Museum is a former National School built in 1892 at the behest of the local landlord, Sir William Gregory of Coole Park, Gort. The Museum is Largely devoted to the works of Lady Gregory (1852 – 1932), widow of Sir William. During her time there, Coole became the meeting place for writers, chief of whom was W.B. Yeats who later bought Thoor Ballylee, artists, actors, statesmen, irish language enthusiasts, folklorists and  traveling musicians.
Coole Park was the home of Augusta, Lady Gregory, folklorist, dramatist, co-founder of the Abbey Theatre and catalyst for the Irish Literary Revival. As an Irish speaker and accomplished translator, playwright, and keeper of journals, Lady Gregory's linguistic and literary ability was key to resurgence of the west of Ireland culture, with her home providing space and support for the nation's literary and artistic giants (including Douglas Hyde, George Bernard Shaw, Sean O'Casey, Jack B. Yeats, and John Millington Synge) to create and respond to the tumultuous social and political events of the times.
Antoine Raifteirí was a nineteenth century poet whose lyrics in Irish were translated into English by both Lady Gregory and Douglas Hyde (the first president of Ireland) who later published them. Ó Raifteirí died at the house of Diarmuid Cloonan of Killeeneen, near Craughwell, County Galway, and was buried in nearby Killeeneen Cemetery. In 1900, Lady Gregory, Edward Martyn, and W.B. Yeats erected a memorial stone over his grave, bearing the inscription "RAFTERY". A statue of him stands in the village green, Craughwell.
https://www.spot-lit.eu/wp-content/uploads/kiltartan-gregory-museum-video-image.jpg
547
1030
spot-lit-admin
https://www.spot-lit.eu/wp-content/themes/master/images/spotlit-npa-eu.png
spot-lit-admin
2022-03-14 19:31:34
2022-03-15 08:31:23
Exploring the History of Lady Gregory, WB Yeats and Raifteirí an File.