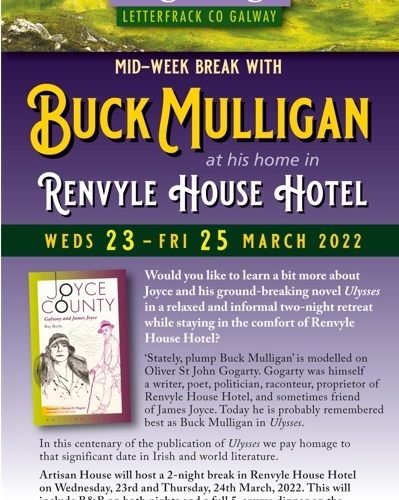 Connemara Writers Pilgrimage in Letterfrack, County Galway.
February 2022 marks the centenary of the publication of Ulysses a significant date in Irish and world literature. Spot-lit.eu partner, Artisan House inaugural literary tourism event entitled 'Mid-week break with Buck Mulligan' will take place over a two-night retreat in Renvyle House Hotel on Wednesday, 23rd and Thursday, 24th March, 2022.  The 2-night break will include B&B on both nights and a 5-course dinner on the evening of 24th March; a performance of 'Nora' by Curlew Theatre Company on the 23rd March, a workshop led by Ray Burke, author of Joyce County, and a 5-course meal on the evening of 24th March. Hosts will be Mary Ruddy & Vincent Murphy of Artisan House and Books at One bookshop, Letterfrack.  For more information, visit www.artisanhouse.ie or email artisanhouseeditions@gmail.com.
_______________________________________________________________________
Writers have long been drawn to Connemara, W.B. Yeats with his new wife Georgia, spent their honeymoon at Renvyle House, the country house of Oliver St John Gogarty. Gogarty played host to countless distinguished friends including Augustus John and W.B. Yeats whose Noh play was first performed in the Long Lounge there.
Oliver St John Gogarty, himself a writer, poet, politician and raconteur is probably most celebrated now as Joyce's model for Buck Mulligan in Ulysses. Indeed, the novel's very first four words 'Stately, plump Buck Mulligan' refer to Oliver St John Gogarty then proprietor of Renvyle House Hotel, and sometimes friend of James Joyce. Today he is probably remembered mostly as Buck Mulligan in Ulysses.
Louis MacNeice, Irish poet and playwright whose father John Frederick MacNeice, was born on Omey Island, that most desolate and haunting of Connemara places. His father's father, William MacNeice from Sligo, was the schoolteacher in Omey.  Nearby Claddaghduff is where MacNeice mother  Elizabeth Clisham, was born.
Cleggan was home to Richard Murphy, the distinguished Irish poet who was born in at Milford House, near Shrule on the Mayo-Galway border, into an Anglo-Irish family.  Murphy devoted his life to a poetry that sought to reconcile Ireland's and his own two traditions. He established his reputation with The Last Galway Hooker, a poem inspired by his experience of buying and restoring a sailing boat of traditional design. He started a fishing and tourism business in Cleggan and in 1969 he purchased High Island where he could work in solitude.
Oscar Wilde's parents, Sir William and Lady Jane Wilde, had a hunting lodge close to Rosroe, the small fishing village where Wittgenstein wrote some of his seminal philosophical work and referred to the area as 'the last pool of darkness' – subsequently used as a book title by Tim Robinson. Rosroe is also where Richard Murphy spent his first period in Letterfrack, although he is now associated more strongly with Cleggan, Inishbofin and High Island.
https://www.spot-lit.eu/wp-content/uploads/buck-mulligan-flier-artisan-house-1.jpg
835
399
spot-lit-admin
https://www.spot-lit.eu/wp-content/themes/master/images/spotlit-npa-eu.png
spot-lit-admin
2022-03-08 18:26:07
2022-03-14 20:13:56
Connemara Writers Pilgrimage in Letterfrack, County Galway.