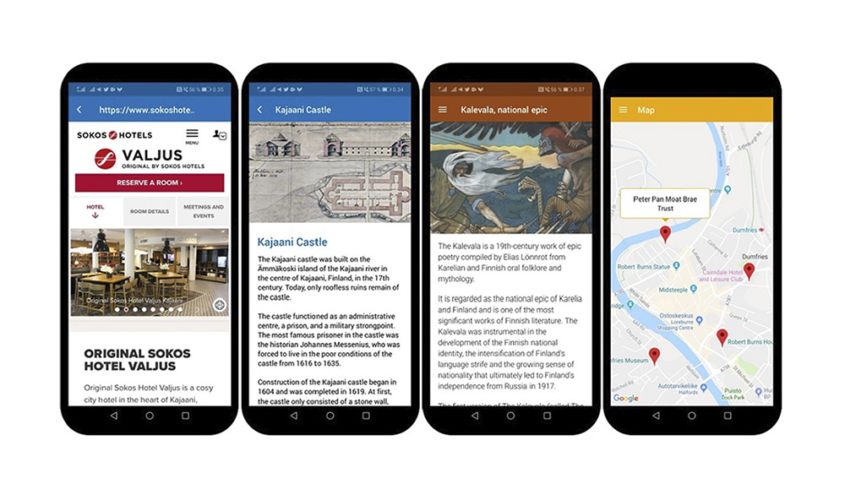 Digital Innovations for Growth Literary Framework Model.
Coming into the Spot-lit project, our aim as a developer was to create a place where we could gather curated information on literature in an increasingly digital world. However, as the project progressed and the partnership worked on developing the literature models, it became clear that a single application would not capture the richness and diversity of literature across the NPA properly. Over the past three years, we worked with stakeholders from Ireland, Northern Ireland, Scotland and Finland to gather information, and design applications suitable for the needs of the regions – a total of 13 applications, available on Android and iOS app stores. A number far greater than we anticipated coming into the project.
By having multiple applications, we gave each region more space to highlight the local authors, cultural assets, heritage, businesses, and events. Each app can provide insight into their area, recommend places to visit, events to participate in, and what to experience. Another benefit of multiple applications is the freedom of each region to choose the contents and visuals of their application, without needing to limit the number of assets they can showcase.
In addition to the applications, we work on an app editing platform, where local stakeholders will be able to update contents of their application without requiring software developers. For each application, a few people have been selected who will maintain the contents of the applications. Information about authors, places and events can be updated, and the built-in map makes it easy to add new locations or points of interest.
Work on the Spot-lit project has been a learning process. We balanced between the requirements of 13 applications, while ensuring that the contents and visuals meet the needs of the regions. A written guide is being prepared, to preserve the lessons learned, and provide guidance on maintaining the applications well beyond the lifetime of the Spot-lit project.
https://www.spot-lit.eu/wp-content/uploads/ft-lit-model-app-1.jpg
667
1000
spot-lit-admin
https://www.spot-lit.eu/wp-content/themes/master/images/spotlit-npa-eu.png
spot-lit-admin
2022-03-14 14:35:10
2022-03-14 14:41:44
Digital Innovations for Growth Literary Framework Model.