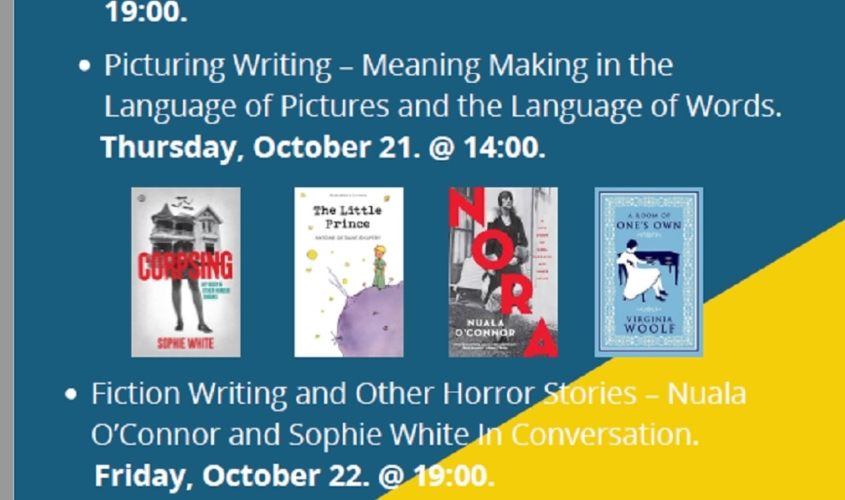 Tertulia Bookshop is delighted to introduce award winning authors Nuala O'Connor (Nora, Becoming Bell, Miss Emily) and Sophie White (Corpsing – My Body and Other Horror Shows, Unfiltered, Filter This). Spend the evening in our company, where we will be talking all things fiction.
Tertulia, a bookshop like no other! is a magical place located in Westport, County Mayo. For book lovers, film lovers, Harry Potter fans, Tertulia is a place to relax, enjoy a cup of coffee, meet old friends and new, chat about books and so much more. The mission of Tertulia is to contribute to a positive change in the way the world thinks. The vision of Tertulia is to live in a world where every story matters, to live in a world that understands that (our) stories are interconnected. It is this understanding that can help make our world a more equal society.
Brid Conroy, co-owner at Tertulia… tertuliabookshop.com @TertuliaBooks
Nuala O'Connor lives in Co. Galway. In 2019 she won the James Joyce Quarterly prize for a story called 'Ulysses', the missing story from Dubliners. Her novel NORA, about Nora Barnacle, wife and muse to James Joyce, is out now in the USA, Ireland, the UK, and Germany. Nuala is editor at flash fiction e-zine Splonk.
www.nualaoconnor.com @NualaNiC
Sophie White is a writer and podcaster from Dublin. Her first book, a memoir-cookbook work, Recipes for a Nervous Breakdown (Gill 2016) was shortlisted for the Irish Book Awards. Her second book and first novel, the bestselling, Filter This (Hachette, 2019) was also shortlisted for the Irish Book Awards. Her third book, Unfiltered (Hachette, 2020) was described by Marian Keyes as "such fun – gas, clever stuff". Her fourth book and second work of non-fiction is the bestselling essay collection, Corpsing: My Body and Other Horror Shows published by Tramp Press in 2021.
http://www.sophiewhite.info/about
Courtesy of Westport Music and Arts Festival.