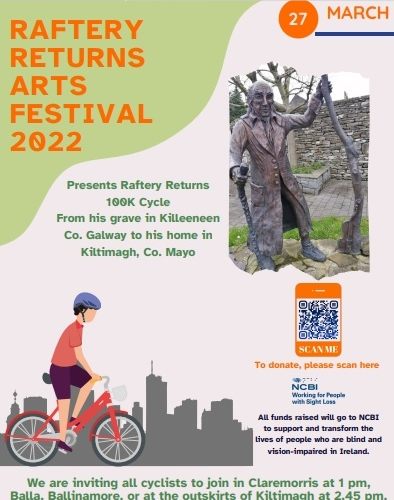 Anthony Raftery (Ó Raifteirí) – 1779-1835 – was born, one of ten children, in the townland of Cill Aodáin, Kiltimagh County Mayo. The story goes that Raftery was banished after a dispute with the landlord when he was about twenty-four. He was to spend the rest of his life in south and east Galway where he lived from his poetry and his fiddle. He always dreamed of returning but never did.
When planning the Raftery Returns Arts festival, the committee were interested in connecting the two communities where Raftery was buried in Kileeneen Graveyard near Croughwell in County Galway to Kiltimagh where he was born. We were aware from his writings and poems of his love for Mayo and his home in Cill Aodain Kiltimagh. Everybody in Ireland probably learned the poem (song) "Cill Aodain" in school. It was used in Riverdance and was considered one of Raftery's greatest pieces. In the poem he describes his longing to come back to Cill Aodain and the journey he would take on his return.
When the spring comes, and the days get longer after St Brigid's day.
To Kiltimagh I will go and I will not stop until I sit down in County Mayo.
On March 27th a group of cyclists will undertake the 100 kilometre journey from his grave in Killeeneen County Galway to his birthplace in Cill Aodain, Kiltimagh. More and more cyclists will join the group in Claremorris, Balla and Ballinamore, and when they get to Kiltimagh, they will escort Raftery in a horse and carriage to the market square –where he will be welcomed in poetry and song.