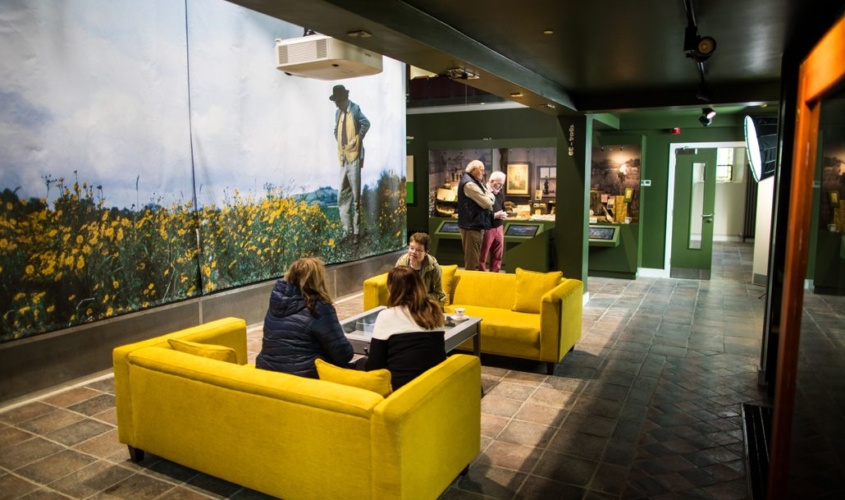 Iniskeen Enterprise Development Group – Patrick Kavanagh Literature Project
The Patrick Kavanagh Centre is a visitor experience and performance space dedicated to the life and work of one of Ireland's greatest poets, Patrick Kavanagh. The centre in Inniskeen, County Monaghan, is housed in a former Roman Catholic church, St Mary's. This building, which dates from 1820, was deconsecrated in 1974 when a new parish church was built. It is newly refurbished and opened to the public in 2020.
The visitor experience includes a series of six memory boxes augmented by touch-screen terminals, each dealing with a period or aspect of Kavanagh's life and work. The centrepiece of the experience is a stunningly evocative 15-minute film featuring readings of Kavanagh's poetry.
With support from the Spot-lit project, a cluster of authentic experiences have been created, using literature as a theme – for visitors to enjoy over a day/ two days in this rural area. The Kavanagh Centre, which tells the story of the poet himself, his life, work and the influences that shaped his writing is the central 'experience' in this cluster.
There has been substantial investment in the new Visitor Experience in the Kavanagh Centre recently and the Group's view is that the key to the success of the Centre is to further integrate it with the Kavanagh Trail and Kavanagh Country more widely, as a pivotal element of a rural tourism cluster, better combining with other priority segments of the market to give wider appeal, including heritage, food and drink, walking and cycling.
Find Out More About The Kavanagh Centre HERE.
https://www.spot-lit.eu/wp-content/uploads/patrick-kavanagh-centre-photoweb.jpg
687
1030
spot-lit-admin
https://www.spot-lit.eu/wp-content/themes/master/images/spotlit-npa-eu.png
spot-lit-admin
2022-02-17 19:40:31
2022-02-17 19:47:50
Iniskeen Enterprise Development Group – Patrick Kavanagh Literature Project