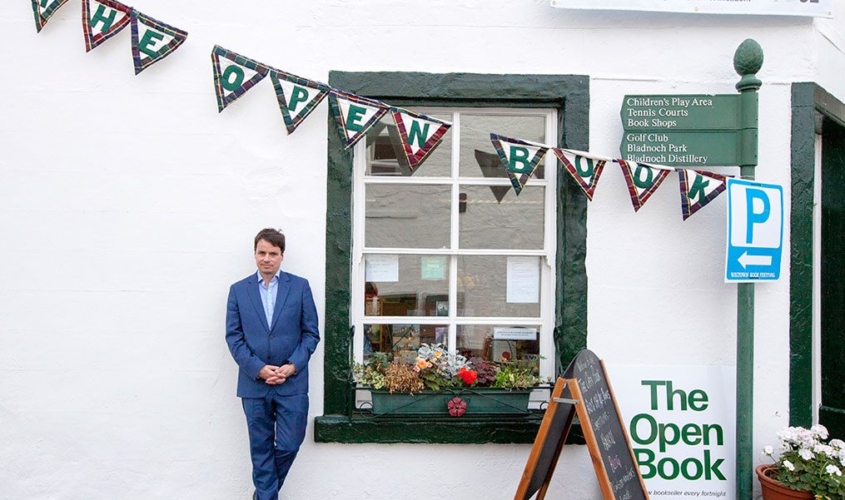 Joining The Dots – Literary Tourism In Peripheral Regions.
Adrian Turpin, Spot-lit partner and artistic director of  Wigtown Festival Company speaks to us about literary tourism in south west Scotland's peripheral regions and how collaboration is key.
"Only connect," the English novelist EM Forster famously wrote. It's a suggestion made for Literary Tourism. We are passionate about writers and writing at Wigtown Festival Company but we're also aware that we're not working in a vacuum or an ivory tower. Every day we cooperate with multiple partners – from bookshops and accommodation providers, to schools and charities, visual artists and performers. "Joining the dots" has become second nature.
There's a reason for this, I think, as for all the Spot-Lit partners, ours is a rural region – 6,000 square miles of sparsely populated south-west Scotland. No question, Dumfries & Galloway is on the periphery: some say it's Scotland's forgotten region. And Scotland's National Book Town in Wigtown is even on the edge of that, occupying its own peninsula. We are quite literally on the road to nowhere, in that great expanse, individual voices can get lost. If we don't work together, nobody will hear us.
This reality has long shaped our approach to Literary Tourism and it continues to inform the EU funded NPA Spot-Lit project. We've always seen it as part of our job to identify what makes our region special and to put it at the centre of what we do.
The most obvious starting point for this is Dumfries & Galloway's spectacular natural heritage and the beauty of its landscape. Wigtown itself is situated in a Unesco Biosphere. Almost on our doorstep lies the Galloway Forest Park, a vast paradise for mountain-bikers, birdwatchers and stargazers. The night skies are so clear here that in 2009 it became the UK's first international Dark Sky Park. That Dark Sky designation is a beautiful, simple, idea and in turn it inspired in 2017 to set up Big Bang Weekend, a Dark Skies festival that brings scientists, stargazers and writers together in Scotland's book town each spring.
Galloway's landscape is a perennial source of inspiration at Wigtown Book Festival itself. This autumn we are planning on taking audiences on walks across Wigtown Bay's unique saltmarsh, the subject of a new book by award-winning nature writer Stephen Rutt.  Watch the video inspired by this project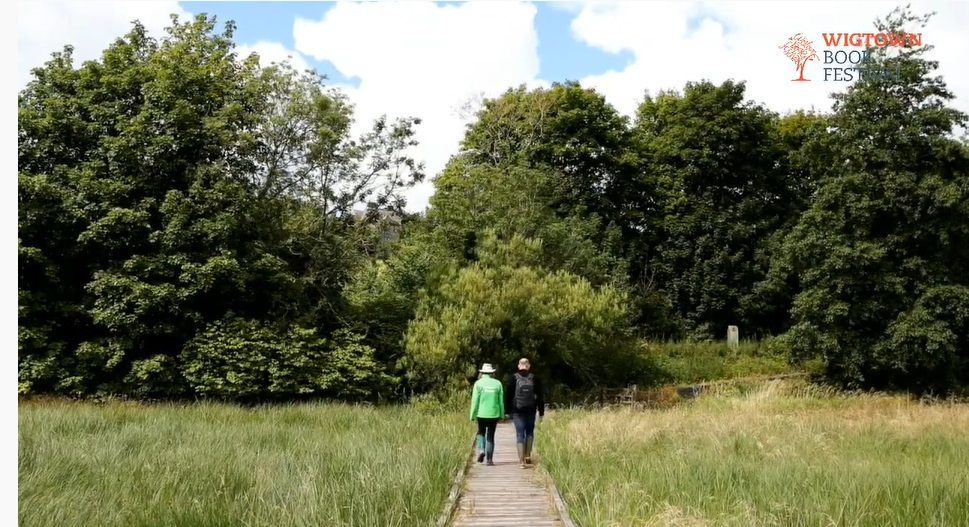 In the past, we have offered our visitors farm tours, pop-up restaurants, pilgrimage walks, a mountain trek to a Little Red Riding Hood's cottage, foraging trips, canoe adventures, cycling tours exploring our Gaelic and Norse heritage, wild swims, and whisky tasting at the Bladnoch Distillery down the road.
Often these events offer audiences a chance to get up close and personal with writers; sometimes they are diversions from the main event – recognition that even the most ardent reader occasionally needs to lift their eyes above the page. But, in every case, they not only support existing local initiatives but add to the tale we are telling about Scotland's Book Town, about our little corner of the country and what makes it special. After all, we are nothing if we are not in the business of narrative. And if we can't tell our own story…

Similar thinking underpins Wigtown Book Festival's strong tradition of visual arts. This is another of our region's cultural strengths. The nearby town of Kirkcudbright (pronounced ker-coo-brie) was a renowned artist's colony since Victorian time and artists and craftspeople still flock to Galloway attracted by its creative communities, cheap studio space and stunning light. When we celebrated the 20th anniversary of the Book Town in 2018, it seemed natural to commission artist Astrid Jaekel (www.astridjaekel.com) to wallpaper the exteriors of the town's buildings, a spectacular project that miraculously endured that autumn's gale force winds and deservedly won her a coveted World Illustration Award.
Over the years, we've had a lot of fun doing these kinds of things. We are proud of the memorable experiences we've created. Or, at least, we are proud of most of them: the less said the better about the alternative Burns Supper and an ill-fated expedition to find the source of the River Bladnoch.
But the truth is that literary tourism lends itself especially well to this multidiscilpinary, lateral approach. A writer's job is to look at what is in front of them and make connections. Readers tend to be curious folk. And everywhere – rural or urban – has a tale to be told, even places that don't have much in the way of traditional literary heritage.
Find Out More About The EU/NPA funded Spot-lit Literary Tourism Industry Support Programme HERE.
https://www.spot-lit.eu/wp-content/uploads/festival-director-adrian-turpin-outside-the-open-book-crop.jpg
680
1015
spot-lit-admin
https://www.spot-lit.eu/wp-content/themes/master/images/spotlit-npa-eu.png
spot-lit-admin
2021-06-09 13:45:40
2021-06-14 13:38:47
Joining The Dots – Literary Tourism In Peripheral Regions.