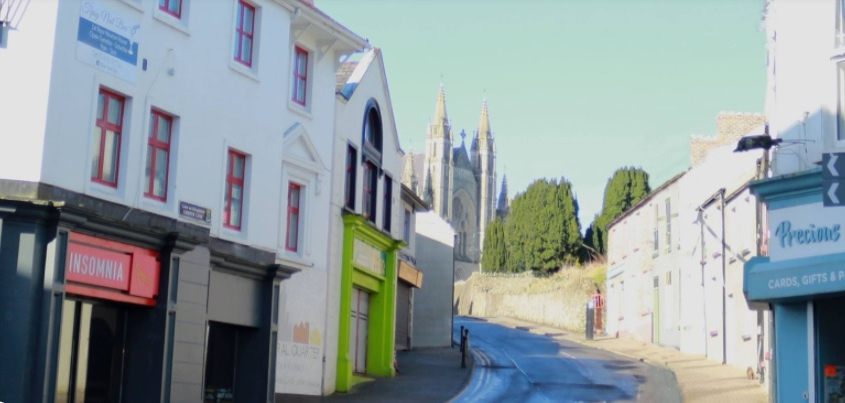 Letterkenny Cathedral Quarter Literary 2020 Weekend
Letterkenny Cathedral Quarter Literary 2020 Weekend is going full steam ahead with the official opening planned for next Friday, October 16. The Quarter's driving force, Donan Harvey, says despite Covid they are planning a full schedule of exciting events to keep all entertained and engaged during what promises to be a great weekend.
The official opening will be performed at 7p.m by the noted writer, Rose Seritova. An acclaimed novelist Rose's second book, The Watsons, won Bronze at the International SPR Book Awards 2019 while some of her shorter works were runners-up in the Flash Prize and Listowel Writer's Week. Rose has made numerous appearances at literary events in Ireland and the UK, including the Jane Austen Festival in Bath. She is also much in demand for lectures in schools and colleges.
This event will then open the floodgates for what Donnan's describes as "a very busy weekend." With the official opening out of the way 'The Life and Times of Lord George Hill' follows immediately at 7.30pm. Presented by the Elusive Players this is a ten-minute play about Lord George Hill who is buried in Conwal Parish Church cemetery alongside his first wife Cassandra Knight, niece of Jane Austen. The story here is that after the death of Cassandra during childbirth, Lord George went on to marry her younger sister, Louisa. The play will examine the aims and ambitions of Lord George and his endeavours to gentrify the people of Gweedore.
For poetry aficionados 'The Diamond Writers', a cross-community group based in Raphoe, will be giving readings of their acclaimed works. Indeed, the publication of 'Wednesday Words' in 2017, their 10th anniversary collection of poems, essays, memory pieces and short stories, was a major event in the Donegal literary calendar. A really talented ensemble a number of the writers have won, or been placed in, prestigious national and local competitions.
No literary festival would be complete without a writing workshop and so a 'Writers Masters Class' on how to become a successful author gets underway at 11am on Saturday, October 17. This is, however, no ordinary workshop in that Cathedral Quarter vice Chair and UTV's Gareth Wilkinson will chair a writers masters class where he will find out from three successful authors the magic formula to getting their work published.
One particularly interesting author is local man Declan Gallagher. The town native emigrated to London in the mid-eighties and then to New York, a year later, where he worked in a Mafia-controlled concrete union, then to the carpenter union using false names provided by the construction companies. During his time there, he became aware of the danger of working with these companies and how many Irish men were murdered for crossing the Mafia. His book 'The Poisoned Glen' tells the story of the influence this had on illegal Irish emigrants and how some met their untimely death.
The afore mentioned Rose Seritova will also be participating. Her two novels 'The Watsons' and 'The Longbourn Letters' have been critically acclaimed. The Jane Austen Regency World Magazine described 'The Watsons' as a "very satisfying, sometimes moving and often laugh-out-loud hilarious work" whilst the same magazine described "The Longbourn Letters" as "a glorious epistolary novel that mixes laugh-out-loud hilariousness with serious social comment and often quite touching sentiment."
Last but certainly not least of the authors is Lissa Oliver, Chairperson of the Irish Writers Union. Lissa is an award-winning journalist specialising in welfare for the horseracing industry, for both equine and participant health and well-being, her works published by the Irish Thoroughbred Breeders Association and Irish and European racehorse trainers' associations, among others. She is also a novelist having written three horseracing crime thrillers.
This should be a real blue-ribbon event with plenty for aspiring writers to get to grips with.
Following the Writers Masterclass, Melissa Shiels will transport you to the Regency period with a special workshop on the Fashion in the times of Jane Austen. Melissa will present recreations of the major fashions that were in vogue during that era. Finishing our events on the Saturday will be a special Childrens storytelling event with Louise Conaghan.
On Sunday Little John Nee will perform in the study hall in St Eunan's College where he will recall what life was like growing up in the Letterkenny of his youth and how the town has changed. Stories and songs aplenty.
The Cathedral Quarter's Literary Festival will come to a close with a gala concert featuring a whole host of local talent including noted local singer/songwriters, Maria McCormack, Mark Black, Zara Montgomery, Shauna McDaid, Without Willow and Aidan Laird.
Speaking yesterday Donan Harvey is adamant that the event will bring a bit of light relief during these strange times. He commented: "I would really like to thank Bord Failte, Donegal Co. Council and the Irish Writers Union for their support in getting this much needed event up and running. In these days of Covid we all need a bit of diversion and this should be great fun. So why not join with us next weekend for a bit of craic and a bit of entertainment!"
Check the Letterkenny Quarter's social media pages for details of the events as some are Zoom recordings and others are live.
https://www.spot-lit.eu/wp-content/uploads/letterkenny-cathederal-quarter.jpg
403
1131
spot-lit-admin
https://www.spot-lit.eu/wp-content/themes/master/images/spotlit-npa-eu.png
spot-lit-admin
2020-10-08 18:39:27
2020-10-08 18:48:56
Letterkenny Cathedral Quarter Literary 2020 Weekend