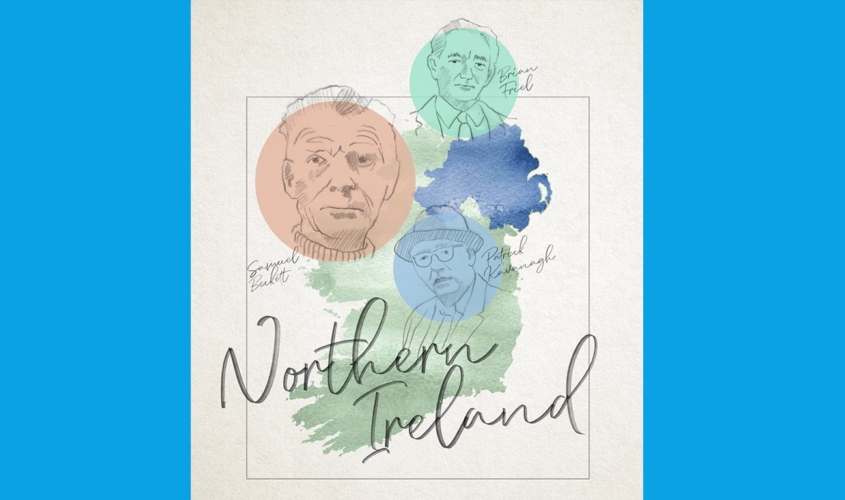 An Overview of Literary Heritage Tourism in Northern Ireland
Northern Ireland is home to a rich literary tradition; in this article we take a look at the literary heritage of Northern Ireland and its legacy of writers who have helped place Northern Ireland firmly on the map as a literary tourism destination.*
Northern Ireland's literary culture and heritage is strong, offering many locations which inspired a multitude of writers. Home to literary giants including; Heaney, Beckett, Lewis and Friel, each of these writers are memorialised through a series of different literary tourism experiences available across the state.
Northern Ireland's Literary Heritage
In the eyes of the world, Northern Ireland's association with literature would probably focus on the life and work of the Nobel Laureate, Seamus Heaney.  Heaney was born in the village of Bellaghy in County Derry and his poetry is suffused with place names and landscape of its environs, – Mossbawn, Magherafelt, Castledawson, Broagh, Anahorish, Church Island, Lough Beg.
Heaney's intimate knowledge of place was profound.  As he wrote, 'The landscape is image.  It's almost an element to work with, as much as it is an object of admiration.'  In 2016 a brand-new, purpose-built literature centre, Seamus Heaney Homeplace, the first of its kind in Ireland, was built on the site of the old police-station in Bellaghy, celebrating Heaney's life and work and attracting visitors from around the world.
But Seamus Heaney is only part of an extraordinary literary cluster of writers and texts within the six counties of Northern Ireland; wherever you travel there are unexpected and rewarding associations.  Take for example Enniskillen in county Fermanagh, Ireland's only 'island town.'  Set in the beautiful watery landscape of Lough Erne, Enniskillen is linked to another Nobel Laureate, Samuel Beckett, who was educated at Portora Royal School in the town, excelling at rugby, cricket and boxing.  The school grounds still retain much of the feel of Beckett's time, the land sloping down towards the lough on which Beckett would often go out rowing.
Beckett first arrived at Portora in 1920 and fifty years before him Oscar Wilde attended the same school.  Two more different personalities it would be hard to imagine, the intense, introspective, gnomic Beckett, the outrageous, loquacious Wilde.  It was at Portora that Wilde's great love of Greek and Latin was nurtured over the seven years he studied there and his beloved children's story, The Happy Prince, emulates the topography of Enniskillen in its descriptions.
The landscape itself can offer surprising juxtapositions.  In County Down, the Mountains of Mourne (known world-wide because of the Percy French song of the same name) allows you the opportunity to walk in the footsteps of  Ireland's national saint, Patrick, who as a boy worked as a shepherd on the sides of  these mountains.  Whilst St Patrick has become a world-wide brand, very few are aware that he is the author of Ireland's first written literature, his Confessio.  Move forward fifteen hundred years and The Mournes and the adjacent Carlingford Lough were the inspiration for the mythic world of C S Lewis' Chronicles of Narnia.  As Lewis wrote 'That part of Restrevor which overlooks Carlingford Lough is my idea of Narnia…it made me feel that at any moment a giant might raise its head over the next ridge'.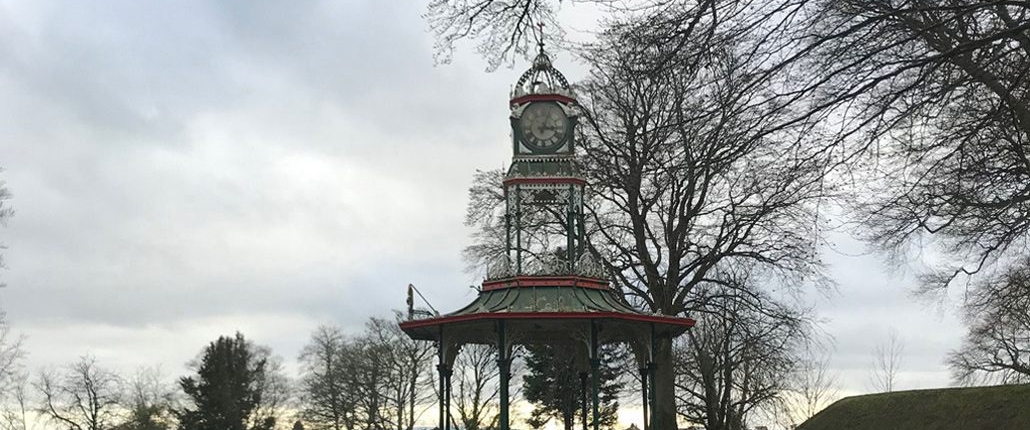 Next door is the historic city of Armagh, the ecclesiastical capital of Ireland, and the county has close associations with the great satirist, Jonathan Swift.
The Robinson Library in Armagh, built in the 18th century, hosts some wonderful treasures from Swift's time in the city. These include a very early edition of Gulliver's Travels, with amendments in Swift's handwriting in the margins. These were corrections angrily made by the author after his publisher had made changes to avoid legal action.  Swift stayed with friends in the county and begrudgingly acknowledged in letters that he was a rude and difficult guest.  His masterpiece, Gulliver's Travels, was written while residing as a guest at Loughry Manor in Cookstown (Co. Tyrone) in the 1720s.  In Armagh each summer, a high profile summer school is held in the name of another great Northern Irish poet, John Hewitt.
In Strabane, (just north of Cookstown where Swift wrote the majority of Gulliver's Travels), was born another comic genius, Flann O'Brien, author of masterpieces such as At Swim Two Birds and The Third Policeman.  It's little known that O'Brien lived for the first twelve years of his life in Strabane; in the family home his father insisted that they speak only Irish. Tyrone also has strong connections with the writers John Montague and Benedict Kiely.
The potential of literary heritage in Northern Ireland and the borders region has over the last ten years been significantly developed by the festival event organization, Arts Over Borders, of which many of Ireland's great writers and artists associated with the border counties are Patrons, including novelists Eimear McBride and Glenn Patterson, poets Paul Muldoon and Nick Laird, actors Adrian Dunbar, Fiona Shaw and Roma Downey, historian Roy Foster.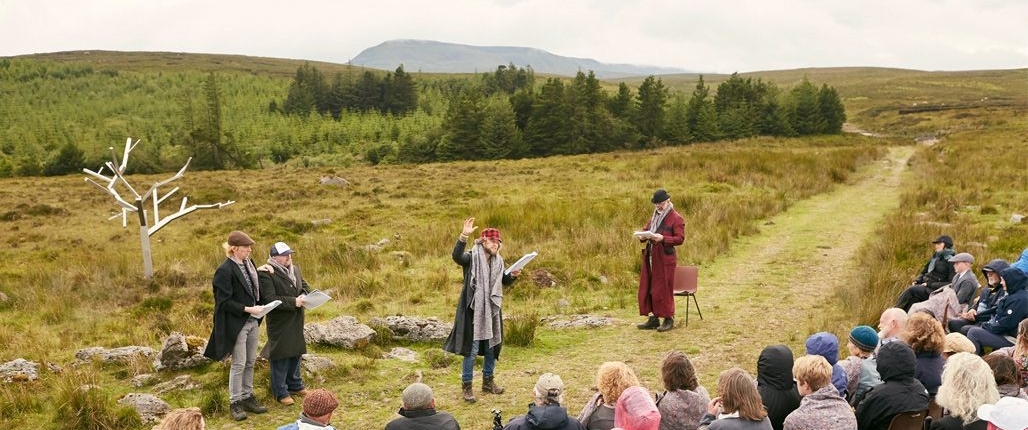 Arts Over Borders produces an annual multi-arts festival celebrating the life and work of Samuel Beckett that was instigated in Enniskillen in 2012 (Happy Days: Enniskillen International Beckett Festival) followed in 2015 by A Wilde Weekend, also held in Enniskillen.  Both festivals have focused on curating events that where possible eschew traditional venues and instead utilise new or found spaces (caves, abandoned houses, islands, police stations, churches, etc.), creating events that are truly experiential for audiences.
In 2015 this multi-arts model was taken further by Arts Over Borders with the creation of Ireland's first cross-border festival in Derry-Londonderry and County Donegal (Lughnasa FrielFest) celebrating the playwright Brian Friel who had strong associations with three border counties, Derry, Donegal and Tyrone.   Since 2012, all three festivals curated by Arts Over Borders have been part of their long term vision to develop a cross border region of literary activity,  the northern literary lands, an inland literary destination equivalent to the Wild Atlantic Way.   Derry-Londonderry has an established venue, the Verbal Arts Centre, dedicated to writing and literacy developmental work in the city.
Most of Northern Ireland's counties sit on the Irish border, a border that is often seen as divisive, yet is actually a means of connecting eleven counties (five in Northern Ireland and six in the Republic) into a region that boasts a literary heritage unmatched anywhere else in the world.  As well as the counties already mentioned above, the northern literary lands also includes County Louth where Ireland's great epic poem and Europe's oldest vernacular text, the Tain Bo Cuailnge, is situated; Monaghan, home of the poet Patrick Kavanagh and where there is a dedicated literary centre celebrating the poet in Inniskeen; Leitrim, where much of John McGahern's fiction is set; and Cavan, where the writer Dermot Healy grew up.  And of course there's Sligo, the inspiration behind so much of Nobel laureate W B Yeats' poetry.
The Irish landscape is composed of places steeped in association with the older Gaelic culture, whether through the world of the ancient epics or through the sacredness of certain sites, and as we travel across the distinctive landscapes of each county our experience and perspective today is heightened and enriched by the new layers of meaning our writers continue to lay down.
Northern Ireland's Contemporary Literary Landscape
In more modern times the literature of Northern Ireland has taken on a distinct identity related to place and the historical significance of the region being born in 1922 with the partition of Ireland. The tensions surrounding this partition provided a theme for many authors and this theme lives on in current literary development.
There are many modern prolific writers from Northern Ireland. While this article focuses on Northern Ireland's literary heritage, it is worth noting that there are many modern writers include Man Booker Prize winner Anna Burns and her contemporaries Wendy Erskine, Brian Moore, Robert McLiam Wilson, Frances Molloy and Eoin McNamee, Jan Carson, Wendy Erskine, David Park, Richard O'Rawe, Glenn Patterson and Lucy Caldwell who now represent Northern Ireland on a global literary stage.
This incredibly rich literary heritage and strong contemporary generation of writers make Northern Ireland a must-visit literary tourism destination.
USEFUL LINKS
CREDITS:
Article by Liam Browne and Sean Doran, Arts Over Borders
Intro paragraph by cultural consultant Karan Thompson
Seamus Heaney Photo Credits: Ireland's Content Pool
NOTES:
*Belfast is not included in this article as it is not included in the NPA region.
https://www.spot-lit.eu/wp-content/uploads/northern-ireland-spotlit.jpg
768
1366
spot-lit-admin
https://www.spot-lit.eu/wp-content/themes/master/images/spotlit-npa-eu.png
spot-lit-admin
2020-07-07 14:52:40
2020-07-21 12:31:26
An Overview of Literary Heritage Tourism in Northern Ireland