Literary Tourism Products Launched in Scotland.
Galloway Cycling Holidays.
Galloway Cycling Holidays, as the name suggests, run bicycle holidays in Dumfries & Galloway. Thornhill in the Nith Valley is one of the hubs for their guests and a wonderful place for them to stay and do stunning day-long rides. Through the Spot-lit.eu business support programme, Galloway Cycling Holidays have developed a website https://www.gallowaycycling.com and a self-guiding trail starting at Drumlanrig Castle with links to Dumfries, Kirkcudbright and the landscapes of Burns, Barrie, Crockett and Buchan feeding into the Kirkpatrick loop.
Watch The Video made by Patrick Rooney (DEAR FRIEND Films) and Holly Young and her wonderful sons Freddy & Rowan make our Kirkpatrick Loop around Drumlanrig Castle & Country Estate to the grave of the inventor of the pedal bike come alive. We love this little movie – and the 10 mile ride is just bliss and will make you smile – promise!
A book by a local author – Jamesie Burns and the Bicycle Thieves, by Ian Barr – begins the adventure and Galloway Cycling Holidays want to help more people discover their unsung local hero. Kirkpatrick Macmillan , 'Inventor of the bicycle' is what it says on the grave of the Scottish blacksmith buried in a remote cemetery near Thornhill. Watch animated video: The Worlds First Bicycle' .
Find Out More about Galloway Cycling Holidays HERE. Courtesy of Galloway Cycling Holidays.
'In the Footsteps of Burns'.
A new website linking the top Robert Burns attractions in and around Dumfries went live in May to stimulate the economy as lockdown lifts.
In the Footsteps of Burns, is a family friendly site which links romantic Ellisland Farm, Friars Carse Country House Hotel, The Globe Inn, The Robert Burns House and The Robert Burns Centre along with other tourist attractions in and close to Dumfries.
A linked Facebook page will have regular updates and both will focus on maps and trails to encourage more outdoor activity and travel between sites. Footsteps highlights what can be seen and done at each site, such as the poet's stool in The Globe, afternoon tea at Friar's Carse, children's activities at the Robert Burns Centre and the farmhouse kitchen at Ellisland.
The Euro £10k initiative was conceived by lead partner, the Robert Burns Ellisland Trust, who successfully bid for the funds from the EU Spot-lit programme delivered locally in partnership with the Wigtown Festival Company. The programme is designed to help local businesses benefit from the growth area of literary tourism.
The Footsteps website was produced by local company Creatomatic. It is designed to be young and fun and aims to tell the story of Burns in Dumfries in a new and engaging way.
Joan McAlpine, Chair of the Robert Burns Ellisland Trust, said:
"After such a long lockdown, this project should help kickstart the visitor season and also encourage local people to enjoy what's on their doorstep. Ellisland Farm inspired Auld Lang Syne and Tam o Shanter and this fresh approach will inspire a new generation.
"Creatomatic have done a great job and we are very grateful to Wigtown Festival Company who allowed us to adapt the project and timescales as a result of lockdown. There's a big emphasis on exploring the outdoors with trails along the Nith and in the town centre. A government funded report by Glasgow University published before lockdown found that Burns was worth £203 million a year to the Scottish economy, but that more could be done to benefit Dumfries and Galloway. Marketing initiatives like this one should help us compete."
Visit Footsteps here https://www.burnsdumfries.co.uk/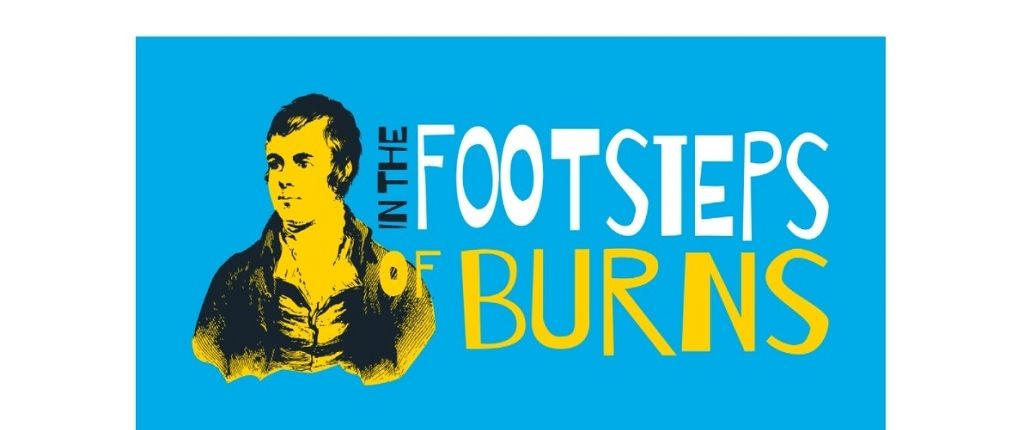 Literary Themed B&B in Wigtown.
Craigmount is owned by Malcolm and Nicole Court, who discovered and fell in love with Wigtown a few years ago while on their frequent travels to Scotland. Their dreams finally became a reality in August 2018 when they bought and reopened Craigmount as a bed and breakfast. Initially Craigmount B&B was just a b&b in Wigtown until approached by Adrian Turpin, director of the Wigtown Book Festival, who suggested they become a literary themed accommodation provider.
"He invited us to this Spot-lit Programme where we got to meet different people and there were lots of ideas going around about how to highlight Dumfries and Galloway as the literary highlight of Scotland," said Nicole. Through the Spot-lit Programme which offered mentoring and funding, Malcolm and Nicole have created literary-themed accommodation at Craigmount, All rooms and public areas are based on local literary figures.
The first room chosen was  'A Galloway Childhood' because this is a wonderful place for children to grow up.
The second room is called 'Diary of a Bookseller' after Shaun Bythell, the bestselling author of 'Diary of a Bookseller' who lives just a short distance away.
The third room 'Ring of Bright Water' after Gavin Maxwell's book which is based on his life on the coast of Wigtownshire.
The fourth room is named Peter and Wendy to incorporate J.M Barrie's 'Peter Pan's original 1911 book" that was based on the 1904 play.
Malcolm and Nicole are also keen to hold themed evenings and literary tours of the area. They hope that their ideas will help attract literary tourists to enjoy Scotland's National Book Town all year round and not just during the annual book festival.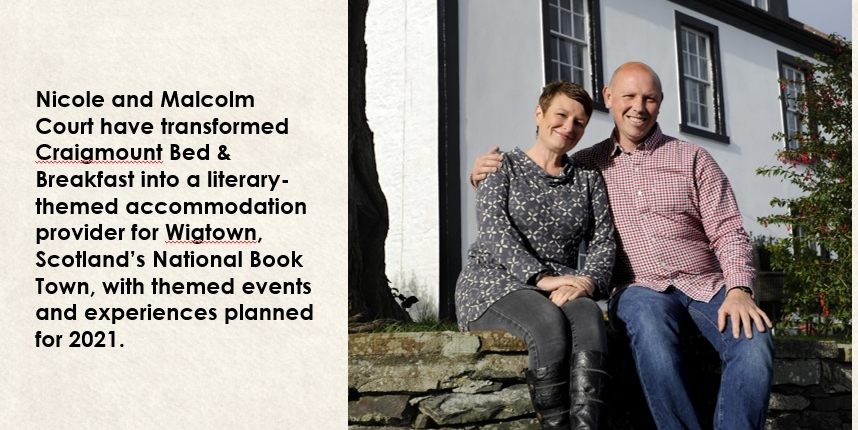 https://www.spot-lit.eu/wp-content/uploads/galloway-cycling.jpg
315
1030
spot-lit-admin
https://www.spot-lit.eu/wp-content/themes/master/images/spotlit-npa-eu.png
spot-lit-admin
2021-06-08 21:39:22
2021-06-08 22:13:29
Literary Tourism Products Launched in Scotland.