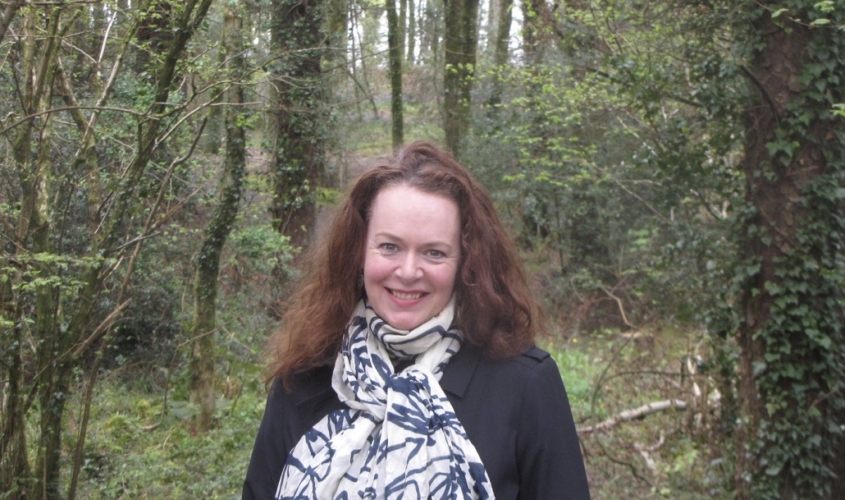 'Elaine Columb: New Psycho-Geoscape fiction from the Irish Borderlands'.
Elaine Columb grew up in the drumlin landscape of rural County Monaghan. She moved to London in the 1990s where she worked initially as a journalist on the Wandsworth Borough News. During this time she also became an active member of Green Ink Writers Group in Islington, where some of her earliest work was first aired. Elaine attained an honours degree in English Literature and American Studies from Brunel University in 1994.
In 1998 she moved to Scotland where she attained a PGCE in Secondary School Teaching from St Andrew's College, Glasgow. Subsequently she taught English at various schools in Chippenham and Swindon in the South West of England.
Elaine returned to Ireland in 2000 where she continued to work as an English teacher at Christian Brothers School in Omagh and at St Joseph's College in Enniskillen. Whilst raising four young children, Elaine has continued to hone her writing craft, developing a range of emotionally moving thematic prose steeped in a strong sense of the Irish borderlands as a physical, imagined and living place.
Currently studying a full-time MA degree in Creative Writing at Queen's University, Belfast, Elaine is simultaneously developing a new short story as well as working on her debut novel which addresses her core themes and concerns. These include issues which impact on women's physical health and mental well-being, such as miscarriage and the menopause, areas that remain even today often overlooked and difficult to discuss. The mythological language of her contemporary prose is characterised by poetic intensity, emotional depth and love-noir. It occupies a genre that has been described as 'psycho-geoscape fiction', where the power of personality, place and the Irish psyche are harnessed to a lyrical and compelling confessional narrative.
Watch Elaine reading from her short story 'Gola Hill'.
https://www.spot-lit.eu/wp-content/uploads/elaine.jpg
772
1030
spot-lit-admin
https://www.spot-lit.eu/wp-content/themes/master/images/spotlit-npa-eu.png
spot-lit-admin
2021-03-05 19:16:18
2021-03-06 16:10:15
'Elaine Columb: New Psycho-Geoscape fiction from the Irish Borderlands'.