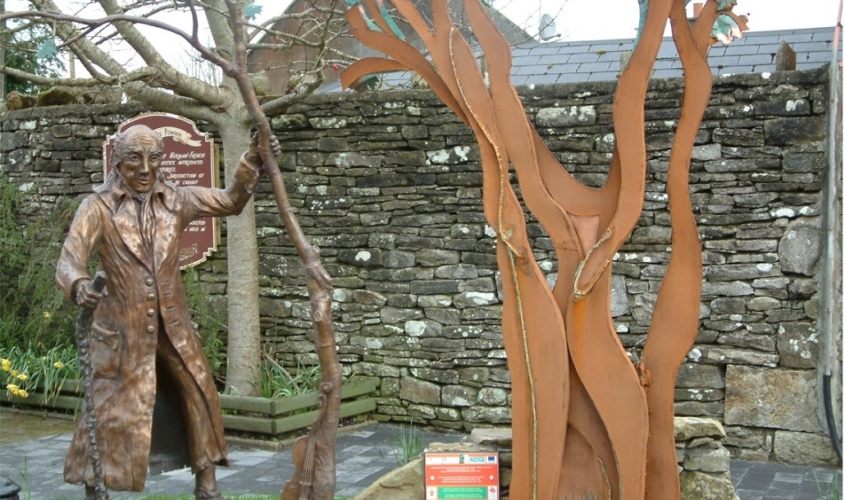 Raftery Returns Arts & Poetry Festival:March 25th to 30th.
Anthony Raftery (Ó Raifteirí) – 1779-1835 – was born, one of ten children, in the townland of Cill Aodáin, Kiltimagh on the estate of the, then, landlord, Frank Taaffe. When Raftery was about ten, disaster struck when nine of his siblings died of smallpox and he lost his sight. It is said the last thing he saw was his nine siblings laid out on the floor. Friar Taffee, Frank's uncle, is said to have seen to Raftery's basic education.
The story goes that Raftery was banished after a dispute with the landlord when he was about twenty-four. He was to spend the rest of his life in south and east Galway where he lived from his poetry and his fiddle. He was partial to a drink and to such beauties as Breedeen Vasey and Máire Ní hEidhin. Among other things, Raftery wrote about his support of the 'Whiteboys' and for this he was charged with sedition in Galway.
Lady Gregory of Coole Park, first heard of Raftery about the year 1900  when visiting the workhouse in Gort. She overheard two old women arguing about the relative merits of poets from the area. Raftery was mentioned and thus began her research into his life and work. With the aid of WB Yeats, Edward Martyn and residents of the Gort area, she had a headstone erected to his memory in Killeeneen graveyard, where he is buried.
None of his poetry was written down but it remained in folk memory until it was collected by Douglas Hyde (The first president of Ireland) around the beginning of the 20th Century. Lady Gregory and Hyde visited Cill Aodáin on several occasions and with the help of local man, Thady Conlon, they translated his work and collected stories and legends relating to his early life.
His work covered a very broad spectrum: poetry on love, religion and aspects of political life. Among his most enduring poems are Eanach Chuin and Cill Aodáin. In Cill Aodáin, he sings the praises of his birthplace and eulogizes about returning – which sadly, he never does.
"The awareness of Anthony Raftery (1779 to 1835) has always been in the air around Cill Aodáin, Kiltimagh, so when a Raftery committee, Kiltimagh Tourism and the Tidy Towns team put their heads together, the idea of, symbolically, returning Raftery to his place of birth, became an exciting and meaningful project. It was felt that promoting the Raftery legend and tradition could be of huge economic benefit to the town and surrounding area.
We were aware from his writings and poems of his love for Mayo and his home in Cill Aodain Kiltimagh. Everybody in Ireland probably learned the poem (song) "Cill Aodain" in school. It was used in Riverdance and was considered one of Raftery's greatest pieces. In the poem he describes his longing to come back to Cill Aodain and the journey he would take on his return.
On the route he'd dreamed of returning in his poem, he will be returned by a group of cyclists via Claremorris, Balla and Ballinamore – who will undertake the 100 kilometre journey from his grave in Killeeneen County Galway to his birthplace in Cill Aodain, Kiltimagh. More and more cyclists will join the group in Claremorris, Balla and Ballinamore, and when they get to Kiltimagh, they will escort Raftery in a horse and carriage to the market square – here, with great jubilation, he will be welcomed in poetry and song.
Raftery Returns Arts & Poetry Festival Programme – March 25th to 30th  2022
Friday March 25th
Sean Keane Concert in The Park Hotel Kiltimagh.
Doors Open at 7pm. Show starts 7.45pm Sharp.
Tickets €20. Available at The Park Hotel, Ryans Bar, Teach O Hora or any committee member or call Martin 087 3501626.
30 pm: Open Mic and Music in Teach O'Hora.
Saturday March 26th
Writing Workshop
10am to 11.30am: creative writing workshop with Terry McDonagh and Gabriel Fitzmaurice in The Parish Hall, Kiltimagh.
11.45 to 1pm: publisher Alan Hayes (Arlen House) talks on publishing in Ireland today.
Literary walk through Killedan
The intention of The Raftery Returns Arts festival is to promote the memory and work of the blind bard. As part of the festival on Saturday 26th March a bus will collect those interested at the Market Square and bringing them to Kileadan. Our own poet Terry McDonagh, a Killedan native, will lead a group through the townland pointing out landmarks and sharing poems and lore relating to Raftery and the area. Places of interest such as Lios Ard (The High Fort) where Raftery got the gift of poetry will be pointed out – as will the contribution of the McManus family of Killedan House to the awareness of Raftery. Lottie McManus, a prolific author, established The Gaelic League in the area. Lady Gregory and Douglas Hyde visited when researching Raftery on several occasions. Their main source of information on Raftery's early life in Killedan, was bard and teacher, Thady Conlon, who is buried in Killedan graveyard. He was Terry McDonagh's great grandfather.
When the walk is over the bus will return to the Market Square.
Bus leaves the Market Square at 3pm.
Poets, Terry McDonagh, Gabriel Fitzmaurice, Colette Nic Aodha and others…
Ending with readings and music in the Cill Aodain graveyard.
Music Comedy & Poetry at the Theatre
Doors open at 7.15pm. Admission €10. in The Town Hall Theatre: an evening of music, poetry readings with acclaimed poets, Gabriel Fitzmaurice and Colette Nic Aodha…also with special guest comedian and unforgettable entertainer, Aindrias De Staic.
Afterwards, all come back to Kitty's for open mic session.
Sunday March 27th 
Raftery Returns Cycle
When planning the Raftery Returns Arts festival, the committee were interested in connecting the two communities where Raftery was buried in Kileeneen Graveyard near Croughwell in County Galway to Kiltimagh where he was born. We were aware from his writings and poems of his love for Mayo and his home in Cill Aodain Kiltimagh. Everybody in Ireland probably learned the poem (song) "Cill Aodain" in school. It was used in Riverdance and was considered one of Raftery's greatest pieces. In the poem he describes his longing to come back to Cill Aodain and the journey he would take on his return.
When the spring comes, and the days get longer after St Brigid's day.
To Kiltimagh I will go and I will not stop until I sit down in County Mayo.
He talks about spending his first night in Claremorris and Balla where he will have a drink.
Then he will head for Kiltimagh where he will spend a month and visit Ballinamore House which is just two miles away.
He says he will then travel to his home in Cill Aodain where everything grows and he will be happy among his own people.
We decided that a cycle from his grave in Kileeneen to Kiltimagh (100K) would be an ideal way to connect the two areas. In doing so we decided to take the route he has outlined in his poem.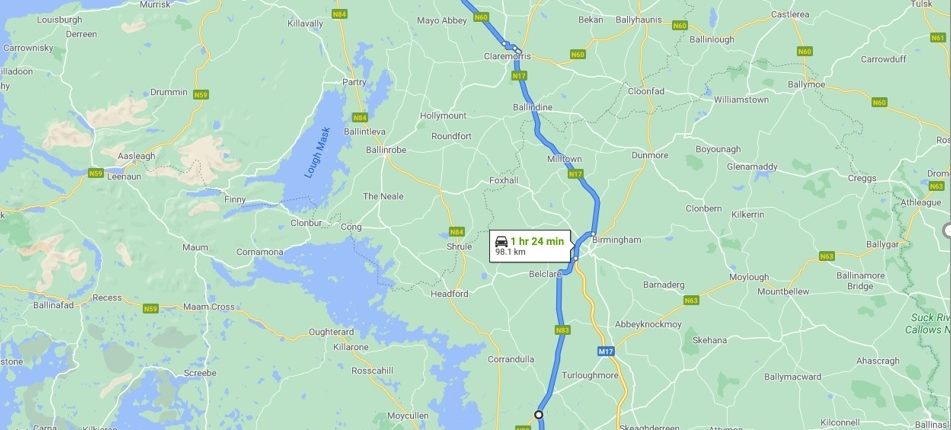 100k cycle from Raftery's grave in Killeeneen Co. Galway to his birthplace in Kiltimagh – following his journey in his famous poem Cill Aodain.
Elite cyclists will cycle from his grave that morning to Claremorris arriving at 1pm where they will by joined by all cycling enthusiasts. Further stops at Balla and Ballinamore Gates before arriving in Kiltimagh at 3pm.
A symbolic parade will take place from Keane's Garage to the Market Square led by a horse and trap carrying Raftery.
Antaine Ó Raifteirí 1784-1835

"Anois teacht an Earraigh
beidh an lá dúl chun shíneadh,
Is tar eis na féil Bríde
ardóigh mé mo sheol.
Go Coillte Mach rachad
ní stopfaidh me choíche
Go seasfaidh mé síos
i lár Chondae Mhaigh Eo."

I gClár Chlainne Mhuiris
A bheas mé an chéad oíche,
Is I mballa taobh thíos de
A thosós mé ag ól
Go Coillte Mách rachad
Go ndéanfad cuairt mhíosa ann
I bhfogas dhá mhíle
Do Bhéal an átha Mhóir.

Fágaim le huacht é
go n-éiríonn mo chroí-se
Mar a éiríonn an ghaoth
nó mar a scaipeann an ceo
Nuair a smaoiním ar Cheara
nó ar Ghaileang taobh thíos de
Ar Sceathach an Mhíle
nó ar phlánaí Mhaigh Eo.

Cill Aodáin an baile
a bhfásann gach ní ann,
Tá sméara is subh craobh ann
is meas de gach sórt,
Is dá mbéinnse i mo sheasamh
i gceartlár mo dhaoine
D'imeodh an aois díom
is bheinn arís óg.

Bíonn cruithneacht is coirce,
fás eorna is lín ann,
Seagal i gcraobh ann,
arán plúir agus feoil,
Lucht déanta poitín
gan licence á dhíol ann,
Móruaisle na tíre ann
ag imirt is ag ól.

Tá cur agus treabhadh
is leasú gan aoileach
Is iomaí sin ní ann
nár labhair me go fóill,
áitheanna is muilte
ag obair gan scíth ann,
Deamhan caint ar phingin cíosa
ná dada dá shórt.

Now with the coming of spring
The days will grow longer
And after St. Bride's day'
My sail I'll let go
To Kiltimagh I will go
And I never will linger
Till I find myself back
In the County Mayo.In Claremorrris
I will stay the first night
and then in Balla below it
I will have my first drink.
To Kiltimagh  I shall go where
I shall make a month of my visit
That's just two miles from Ballinamore.I solemnly swear that the heart in me rises
as the wind rises up and the mists break below. When I think about Ceara
or  Gaileang down from it, the bushand the mile or the plains of Mayo.Kileadan is my townland
where everything grows.
There are blackberries and raspberries
and every sort of fruit
and were I to be standing
in the centre of my people
age would depart from me
and I would be again young.There is wheat and oats
barley and flax there,
rye in abundance there,
flower-bread and meat
and folk who make moonshine
without a licence or care
as the pride of the country
are playing and drinking.There is sowing and plowing
and fertilizing without manure
and it's many the thing there
of which I have not yet spoken:
kilns and mills
working without rest there
with hardly any talk about a penny rent
or about nothing of that sort.
Monday March 28th
9pm: Basil Burke talk on The McManus Family of Killedan House – in Langan's Bar.
Tuesday March 29th 
9pm: Seamus Corry talk on the history of Kiltimagh GAA – in Ryan's Bar.
Wednesday March 30th 
9pm: Brian McDonagh talks on ancient artifacts discovered in the area – in The Tavern Bar.
https://www.spot-lit.eu/wp-content/uploads/raftery-statue-2.jpg
772
1030
spot-lit-admin
https://www.spot-lit.eu/wp-content/themes/master/images/spotlit-npa-eu.png
spot-lit-admin
2022-03-05 12:21:29
2022-05-27 18:18:34
Raftery Returns Arts & Poetry Festival:March 25th to 30th.