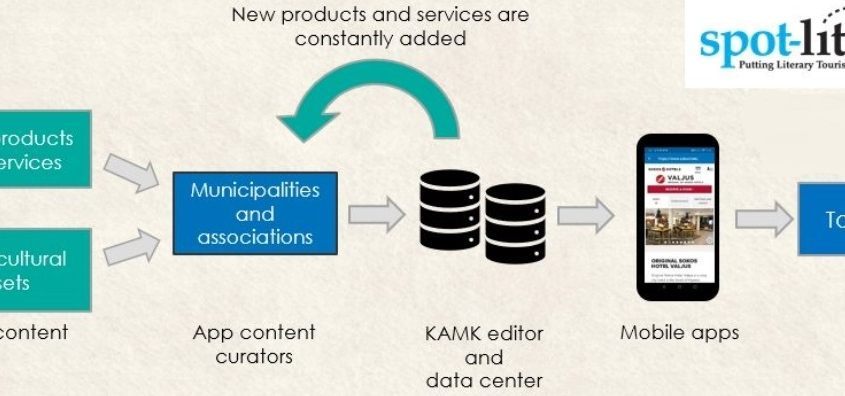 14 New Literary Tourism Digital Apps Developed.
Spot-lit.eu project partner Kajaani University of Applied Sciences have developed 14 mobile phone apps for literature associations, organisations and SME's to showcase their literary tourism products and services. The development of these apps will further connect Literary Tourism businesses to the web of support businesses in their area. Maps will be integrated, allowing the app user to see points of interest in his/her area that are relevant to tourism or culture, such as accommodation providers, tourism attractions, museums, restaurants, artisan food and drink offerings,  public transportation, tours, trails and more.
These apps put literary tourism in the NPA on the map in a very literal way and will be available free for download through the Google Play Store or Apple iOS.
Ireland App: In Ireland one App is being produced. Complete this Short Questionnaire to have your literary offering/business included on Ireland's Literary West APP.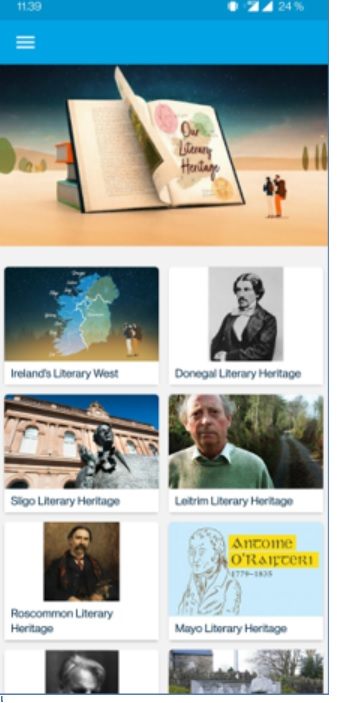 Irelands Literary West – To The Words & The Wild' is a Digital App to showcase the literary and cultural attractions along Ireland's West Coast. It includes information about events, attractions, bookshops and visitor facilities.
The App offers visitors and locals alike a new way to the discover the stunning landscapes and literary places that continue to inspire Ireland's greatest writers, poets and playwrights. From Donegal to Cork along the Wild Atlantic Way, Ireland celebrates its literary heritage and its modern literature with festivals and events for all ages. Together, they provide rich and varied opportunities for locals and visitors alike immerse themselves in theatre, music, poetry readings, seminars, book launches, performances, workshops, competitions, screenings, talks, crafts, walks and tours.
Finland Apps.
For the Finnish region of Kainuu, seven smartphone applications are being developed by Kajaani University of Applied Sciences within the Spotlit project. The seven local applications provide an informative and modern way to explore literature and culture of the Finnish region of Kainuu.
Through the Spotlit project, applications are also trialled as an innovative way to connect local culture, businesses, and tourists. Users can conveniently browse for local hotels, tours, restaurants, events, shops, and other offers in the region. The development of the applications continues, and users are now invited to download the free applications and test the first versions  With your input, more content and features will be added in future updates. Please complete this short FORM to provide feedback on the Finland Apps.
The applications cover the municipalities where Finnish authors were born, raised, or resided of an extended period of time in their life. Titled after the municipalities, the applications are: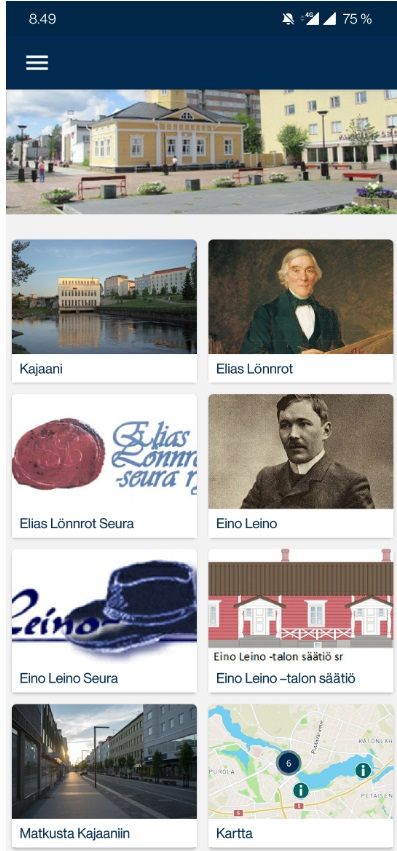 Visit Kainuu application provides a general overview of the region and includes links to the other applications.
Visit Kuhmo describes the Kuhmo UNESCO city of literature, Elias Lönnrot the author of the Kalevala, and the literary heritage both tangible and intangible though the Juminkeko Foundation.
Visit Suomussalmi describes the northernmost municipality of Kainuu, where the author Ilmari Kianto lived, and his personal experienced in a time of change in Finland.
Visit Puolanka describes the author Isa Asp, who was the ''first woman Finnish poet''.
Visit Sotkamo application describes the author Veikko Huovinen, his work and life in the municipality of Sotkamo.
Visit Kajaani app describes both Elias Lönnrot and Eino Leino, who both lived and worked in Kajaani, the capital city of the Kainuu region.
Click HERE to complete the form to provide feedback on the Finland Apps.
Scotland Apps:In Scotland, three Literary Tourism apps are being produced.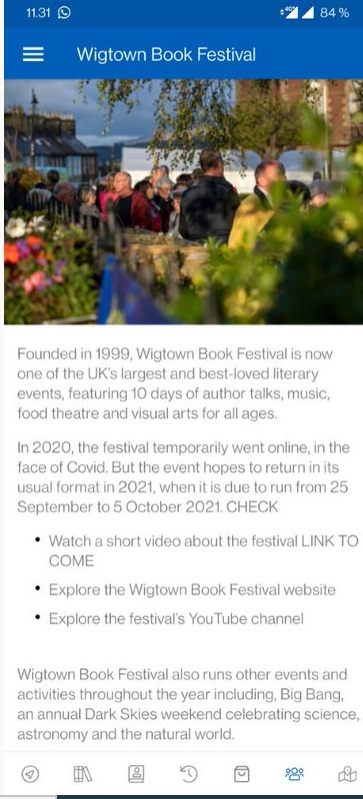 Explore Wigtown is intended to be a "one-stop-shop" for Scotland's National Book Town, including information about events, attractions, visitor facilities and, of course, the bookshops that give the town its identity.
A Literary Dumfries app brings together the great literary heritage of south-west Scotland in one place for the first time.
Story Book Dumfries support's Wigtown Festival Company's children's Literary Tourism model.
"The apps are designed very much to be complementary," says Wigtown Festival Company's Adrian Turpin. "Our aim is to show that Dumfries & Galloway is a distinctly literary region with vibrant hubs of activity."
Northern Ireland Apps: In Northern Ireland two Literary Tourism Apps are being produced.
Northern Literary Lands (NLL)
The Northern Literary Lands (NLL) consists of eleven border counties, each of which has a powerful landscape connection to either a giant of literature or a great literary text. The app provides an overview of the region and its literary giants.  It also includes information on literary places to visit, the top 10 literary landscape experiences in the region, and a number of bespoke new epic journeys which are cross -border multi literary routes. Also included is information about how to get there, hospitality and places to stay
Wilde Island Town:  WIT – Home of The Happy Prince
The App provides an overview of Oscar Wilde's literary connection to Enniskillen, County Fermanagh, the only Island town in Ireland. It describes how his first formal school, Portora Royal School in Enniskillen sparked his imagination for The Happy Prince story thereby creating a new exciting global destination for Oscar Wilde. It highlights the many places to visit in the Island Town of Enniskillen and its surrounding landscape of County Fermanagh that have resonances with Oscar Wilde's The Happy Prince story and with the artist and artisan story of Oscar Wilde himself, it includes information about Enniskillen as a year round 365-day Oscar Wilde visitor destination with details of places to visit, explore and stay.
https://www.spot-lit.eu/wp-content/uploads/app-development-image.jpg
396
991
spot-lit-admin
https://www.spot-lit.eu/wp-content/themes/master/images/spotlit-npa-eu.png
spot-lit-admin
2021-06-09 14:34:27
2021-06-17 14:31:24
14 New Literary Tourism Digital Apps Developed.