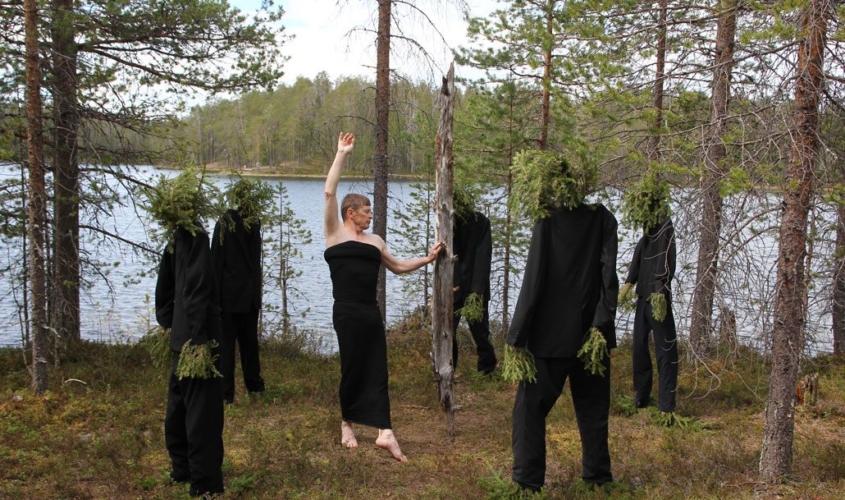 Ten Things You Didn't Know About Literary Finland
February is our 'Focus on Finland' month where we will give you an insight into the literary heritage of this culturally-rich Nordic country.
One of the most sparsely inhabited countries in the European Union, Finland is mostly covered in forest, lake, and tundra, where urban life is a relative novelty and the average family spends weeks every summer in a small cabin by a lake or seashore, with no running water and often no electricity. Finland is also, as you might expect, a progressive Nordic state; wired, highly literate and technologically advanced. But how literary is Finland as a nation? The power of the spoken word has a special place in Finnish literature so there's plenty of good Finnish authors out there, both contemporary and historical. Many Finnish books are translated into multiple languages for global audiences.
Here are ten things you may not know about literary Finland.
Finland's

literary history

is young compared to Europe in general. During the Middle Ages, when Finland was under Swedish rule, Finnish was solely an oral language. It was only after the Reformation that writing and literacy truly came to Finland. Having said that, nowadays Finland is among the top countries measuring by the literacy rate but also in the field of

library services

. 

The

Kalevala

is the national epic of Finland. The book was compiled from Karelian and Finnish oral folklore and mythology by Elias Lönnrot (1802-1884), working as the district doctor of Kajaani in Kainuu at that time. Lönnrot's impact on the development of modern vocabulary in Finnish and contributions to improving the status of Finnish were also very important. The national centre for preservation of Kalevala traditions and culture,

Juminkeko

, is located in Kuhmo, the city that recently has been designated as a city of literature of the

UNESCO Creative Cities Network

.

Since its first publications in 1835 and 1849, the Kalevala became the most translated book in Finland – over 60 languages and still excites translators and art people to immerse in it. What might really surprise you is that Kalevala has

connections to J.R.R. Tolkien

.

The Story of Kullervo, publication of a previously unknown work of fantasy by Tolkien, is actually a prose version of the Kullervo cycle in the Kalevala. The Lord of the Rings itself was inspired by the Kalevala, and Tolkien studied Finnish in order to read the Kalevala in the original language!>> Read More

Few Finnish language authors make a living from book sales alone. There are approximately 5.2 million native Finnish speakers and any book sales of more than three thousand units are an excellent achievement in Finland. Finnish literature also lives outside Finland, both as translations and as original works.

Finnish literature is as international as any well-written literature, no matter the subject and geography. However, entering new language and cultural areas is not easy and you need translators and literary agents. This work, which is easily invisible, is essential for reaching larger markets. >> Read more. 

Literary tourism is not as well known in Finland as it is in other European countries. Due to its young culture, its literary heritage is much smaller in scale. However, Finnish culture has a strong literary culture and that there are several places, locations, events and other

tourism

products that could be seen as literary attractions. >> Read more about

Finnish Literary Tours via Visit Finland

.

Finland is home to a theme park based on a book. Southwest Finland is home to the internationally famous Moomin World theme park based on the Moomin books by Tove Jansson and the beloved 1990's TV series. All the books have been translated into English and the story of the Moomins has been made into television series on many occasions by various groups, the most recent of which is a Japanese–Dutch collaboration, that has also produced a feature-length film.
War is a big part of the Finnish history. The small nation bravely survived in the Winter War against the Soviet Union (USSR) and then in the Continuation War. There is plenty of literature on the topic available, some also in English or other languages, like Unknown Soldier (Finnish: Tuntematon sotilas), the 1954 bestselling Finnish classic novel by Väinö Linna that is considered part of national legacy. The war drama is also available as a film, from which the 2017 version and the third adaptation of the original book is also subtitled in English.  Raate Road in Suomussalmi, Kainuu, was the scene of two decisive Winter War battles, and boasts today, among other things, a Winter War exhibition, field of stones, Winter War Monument and other memorials along Raate Road.
Although well known internationally for its classical literature, there are also many contemporary books from Finland available in English. See more at booksfromfinland.fi and finland.fi. 
Nordic Noir is a widespread, cover-all literary style for depicting Scandinavian crime fiction of the dark-kind. Reading Nordic Noir, you easily get the impression that all of Scandinavia comprises of violent societies, dark secrets, and inhabitants with screwed-up sex lives harbouring thoughts of murder, or at least of suicide. The nights are endlessly light in summer and Nordic Noir has elements of disappearing deep into the Woods. In Finnish crime stories, humour has always played an important part. The earliest of the three whodunits by Mika Waltari, the internationally acclaimed author of historical novels (The Egyptian, The Dark Angel et al.), starring Detective Inspector Palmu of the Helsinki CID, appeared in 1939 after winning the Finnish section of the Scandinavian detective story contest of 1938, and Waltari's flair for subtle comedy is apparent in all three. The famous crime writers in Finland include Max Seeck, Reijo Mäki, Tapani Bagge, J.P. Koskinen, Jarkko Sipilä, Markku Ropponen, Christian Rönnbacka, to name but a few.
Although there are not that many well-known literary figures apart from the Kalevala and Moomins in Finland, Lapland has used another fictional (Fictional? Who said fictional?) character to leave its touristic mark in the world. Since the 1980s, tourists from all over the world have made the trek to a small town located on the Arctic Circle to meet the one and only Santa Claus, inspiration to an infinite amount of stories and experiences. In Rovaniemi, you can meet Santa in his own little village or write him one of those 500,000 plus letters that arrive every year at his Arctic Circle office.
https://www.spot-lit.eu/wp-content/uploads/performance-in-hossa-sh-crop.jpg
687
1030
spot-lit-admin
https://www.spot-lit.eu/wp-content/themes/master/images/spotlit-npa-eu.png
spot-lit-admin
2020-02-12 10:57:40
2020-02-18 15:00:12
Ten Things You Didn't Know About Literary Finland