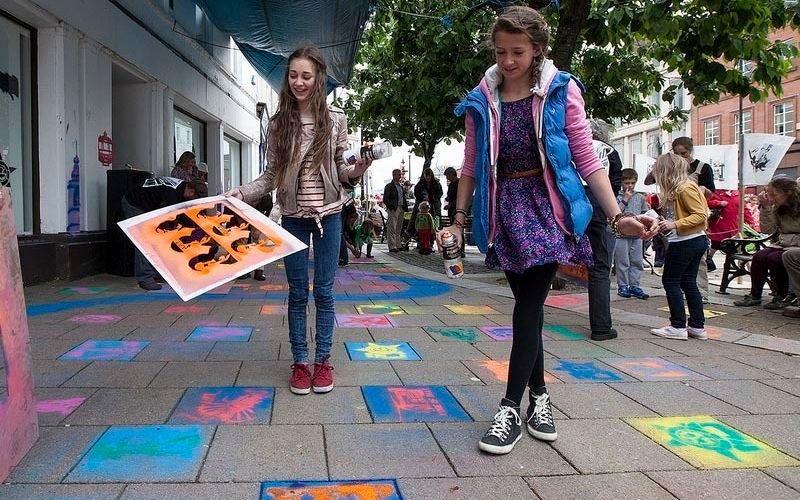 The Stove Network – Wild Goose Festival.
The Stove Network is a social enterprise based in the heart of Dumfries town centre, we use arts and creativity as tools to involve our local community in deciding and shaping the future of our town for its people. We are a hub for the region's creative sector and initiate partnership projects that result in festivals, events, new organisations/groups and a programme of regular activity. The Stove won the Scottish Regeneration award for Creativity in 2016 and initiated the Midsteeple Quarter project – a £30M community-led regeneration project for Dumfries town centre.
Wild Goose Festival is a pilot for a new multimedia festival in Dumfries that uses the migratory route of the Barnacle Geese between Svalbard and the Solway Estuary to join people, nature and ideas across Scotland and the Arctic. The Wild Goose Festival is an innovative way of connecting literary tourism with the established nature and environment tourism offer in Dumfries and Galloway.
Wild Goose Festival will include 'Riverrun', a weekend festival of nature writing for all ages (17-18 October). Riverrun includes 'Mother Goose' events for children. Mother Goose events will engage with authors writing for young people as well as seeking out topical and relevant programming that connects to the geese and exploration themes. The festival will also showcase local authors writing for children in Scots. More HERE.
The Spot-lit Literary Tourism Product Innovation Programme was delivered by Business Tourism Solutions in conjunction with Wigtown Festival Company.
https://www.spot-lit.eu/wp-content/uploads/the-stove-network-web.jpg
533
800
spot-lit-admin
https://www.spot-lit.eu/wp-content/themes/master/images/spotlit-npa-eu.png
spot-lit-admin
2022-02-17 19:26:14
2022-02-17 19:30:54
The Stove Network – Wild Goose Festival.