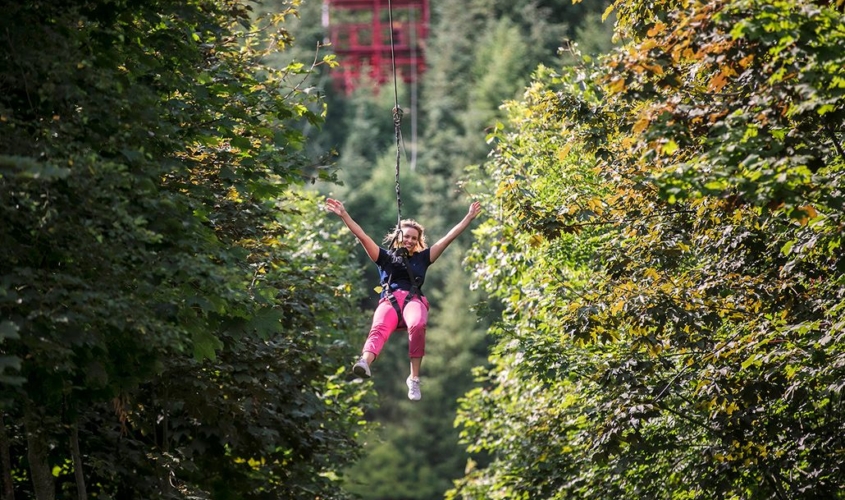 Todd's Leap Activity Centre –Farrell's Lanavoye.
Established 30 years ago, Todd's Leap Activity Centre was the brainchild of Benny O'Hanlon. When Benny acquired the two neighbouring farmlands, beside his family home, his inspiration for Todd's Leap, came from a verse of a poem that he had been taught in school.  The poem 'Lanavoye' by the local writer Patrick Farrell (1856 – 1938) laments of the 'happy colony' that once resided on the beautiful glens of Lanavoye but through time had emigrated away. Patrick writes 'oh would kind fate where brave men lived, let joy once more prevail. With the children's merry laughter, ringing on the evening gale'. Coincidently, the glens of Lanavoye make up the 100 acres of rugged picturesque countryside, where Todd's Leap is based.  Patrick's vision was adopted by Ben as the vision for Todd's Leap and along with his wife & four children, Ben would set about creating an outdoor attraction, that would welcome people back to 'Lanavoye' and joy would once more prevail with merry laughter ringing through the glen.
With the assistance of the Spot-lit project, Todd's Leap will host a seven-day, free admission poetry festival with guest speakers, readings, activities, old traditions, music, food stalls, story-telling, trails workshops, and poetry competitions. An outdoor literacy schools' programmes will be developed, which combine creativity and literacy in an instructor-led outdoor environment. The programmes will include outdoor trails, storytelling, poetry reading, reading and writing activities, outdoor adventure activities and drama workshops. A Writers' retreats will also be developed, hosted by writers Shirley Rocks and Eddie McClenaghan, that will offer sanctuary in peaceful log cabins to allow writers to create their own work and come together with like-minded writers. They will also be given the opportunity to explore the works of Patrick Farrell and other local writers.
https://www.spot-lit.eu/wp-content/uploads/todds-leap-web.jpg
687
1030
spot-lit-admin
https://www.spot-lit.eu/wp-content/themes/master/images/spotlit-npa-eu.png
spot-lit-admin
2022-02-17 20:22:01
2022-02-17 20:22:01
Todd's Leap Activity Centre –Farrell's Lanavoye.