Literary Tourism Products Under Development in Northern Ireland & Cavan/Monaghan
Lurgan & North Armagh George Russell Festival Society (GRFS)
The Society runs an Annual Festival in Lurgan, County Armagh centred around the heritage of George Russell – better known as 'A.E.'. The Festival includes various talks and a historic walking tour as well as poetry readings and 'open mic' nights.
Through the Spot-lit project, The AE Russell Literary Tour has been developed and will be rolled out once restrictions allow. A successful online festival was held in April and this has drawn additional support and people to get involved with the project. An exhibition will be taken on the road this summer and a school project is under development. Funding has been secured from the Housing Authority to undertake a feasibility study for the creation of a new AE Russell Centre which will incorporate the birthplace of AE Russell. Lurgan Council have incorporated a visual icon (Book and Pen) into the new branding for the town further emphasising the the importance of Russel and the literary connection to the town. New signage is also to be erected for the 'Russell Quarter' within the town.
Iniskeen Enterprise Development Group – Patrick Kavanagh Literature Project.
The Patrick Kavanagh Centre reopened on the 17th May with a cultural and arts programme planned for the summer months. Together with Monaghan County Council and Fáilte Ireland, the Centre is working with the local community and tourism enterprises to develop Inishkeen and the surrounding areas as a literary tourism destination. This has attracted additional funding for activities and public realm developments around the initiative. While progress has been good, it has nonetheless been very challenging to gather and develop this network during public health restrictions. In the meantime, a number of other significant developments have taken place. Partnerships have been developed with RTE (series related to Kavanagh in production) and the National Concert Hall. A permanent Poetry Jukebox is to be installed in the town which will showcase Kavanaghs work along with contemporary writers. The Kavanagh weekend will go ahead in September with a special one off show. December 2021 will mark the 90th anniversary of Kavanagh's walk to meet AE Russell in Dublin. A possible joint event is being considered with the AE Russell Society.
Todd's Leap Activity Centre –Farrell's Lanavoye.
Established 30 years ago, Todd's Leap Activity Centre was the brainchild of Benny O'Hanlon. When Benny acquired the two neighbouring farmlands, beside his family home, his inspiration for Todd's Leap, came from a verse of a poem that he had been taught in school. The poem 'Lanavoye' by the local writer Patrick Farrell (1856 – 1938) laments of the 'happy colony' that once resided on the beautiful glens of Lanavoye but through time had emigrated away. (More HERE)
Todds Leap regard literary tourism as becoming part of their destination tourism planning.  A working group has been set up to deliver The Farrell Festival in July 2021.  The group are currently heavily engaged in planning and delivering their day to day activities as restrictions have been lifted. Schools are all fully engaged in the programme and will deliver one of his poems during Ceili night.
The Light Theatre Company – Bloomsday Festival.
The Light Theatre Company is progressing well in bringing their literary tourism product to market. Key in that achievement have been two important milestones – testing and delivering their literary events online during lockdown in the past year, and their developing connections with the wider tourism sector in the region to establish a literary tourism destination. Delivering their events online has been challenging, but the group recognise their achievements and now have digital collateral to support their work in the future. A Bloomsday event for 2021 is in planning, with options for online and offline festival events in the mix.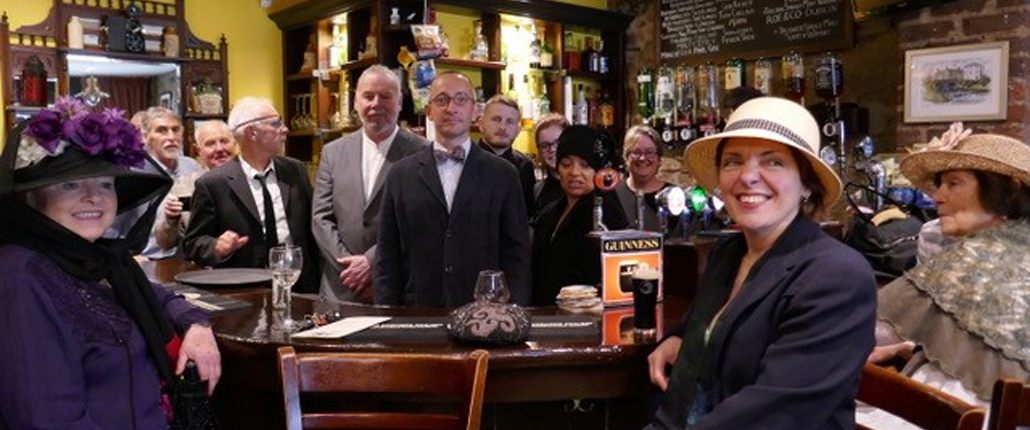 Droimnín Destinations.
Droimnín Destinations is a new business established with the intention of providing specialised tourism initiatives working with a range of stakeholders throughout County Cavan.  Droimín Creatives have developed a programme of content for the summer months of July-September, with additional funding support from the local authority and Creative Ireland. In preparation for this programme, the group are working to finalise a business plan and marketing plan, supported by Cavan Arts Office. This process has also assisted the group in formalising a committee and a commercial model for their future operations. Work on the organisation's online presence is well underway. This will give them a website and social media presence, and it is planned to include a digital map showcasing creative arts in Cavan as part of their online presence.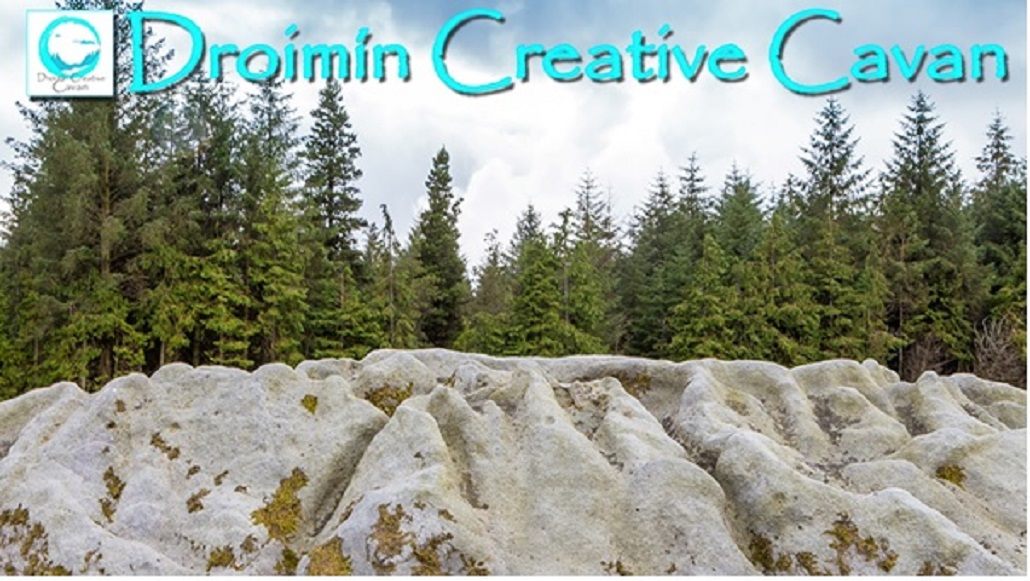 Armagh Rhymers – Digital Guidebook.
The Armagh Rhymers have developed the framework for their digital guidebook and have done considerable work over the year in collating their digital archive. The Rhymers expect to recommence work on their digital guidebook later this year. The Armagh Rhymers have spent the past year adapting to and developing skills for the digital world and now place an even greater value and importance on their digital guidebook.
Strabane Business Improvement District – Flann O'Brien Literary Programme.
With support from the Spot-lit project, a programme of events are being developed to celebrate Flann O'Brien and his work.  BID has spent considerable time reworking their Flann O'Brien events to accommodate travel and health restrictions.  The programme of literary and cultural events will take place over the summer in Strabane, bringing the works of and connection to Flann O'Brien for the local community and visitors to the region. In addition, a new heritage trail in development for Strabane will include points of interest in the life of Flann O'Brien with the ultimate goal to develop a stand alone Flann O'Brien trail in the future. Looking ahead, Strabane BID will work with the local heritage group and community groups to further establish the connections to Flann O'Brien, bringing national and international media and Flann enthusiasts to the area for festivals and events in the years ahead.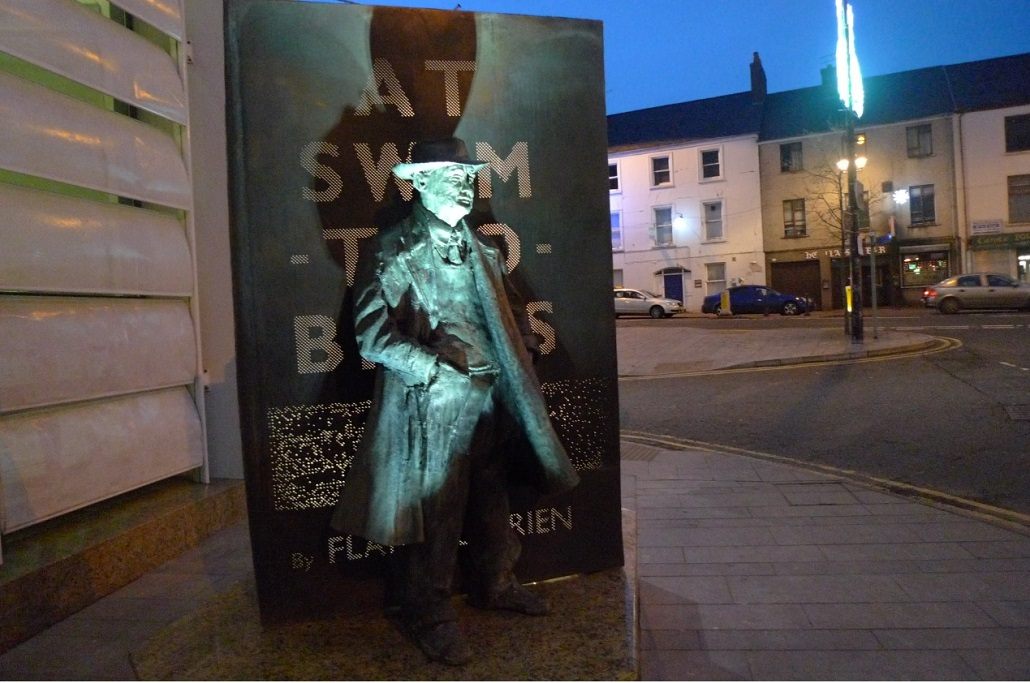 https://www.spot-lit.eu/wp-content/themes/master/images/spotlit-npa-eu.png
0
0
spot-lit-admin
https://www.spot-lit.eu/wp-content/themes/master/images/spotlit-npa-eu.png
spot-lit-admin
2021-06-08 21:20:54
2021-06-25 21:19:58
Literary Tourism Products Under Development in Northern Ireland & Cavan/Monaghan