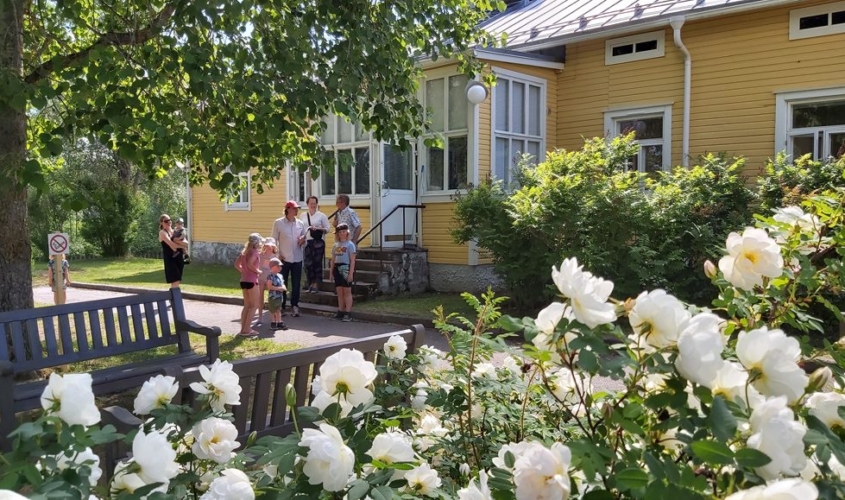 Sotkamo – One of The Richest Regions in Finland Measured in Words
Veikko Huovinen (1927 –2009) was a novelist who lived in Sotkamo in the Kainuu region. He was trained as a forester and practised this profession from 1953 to 1956, he then began a career as a writer. His writing is known for its realism, pacifism, sharp intellect, and especially a peculiar humour, Huovinen observed and analysed the world closely, often through satire.
Huovinen wrote more than thirty books and many of his works are based in the Kainuu region, in his own soul landscapes. Veikko Huovinen society was founded in 2007 as a birthday gift to the novelist as he turned 80 years old to honour, cherish his lifes work and make it known.
Our Literary Tourism Plans:
The sites related to Huovinen in Sotkamo include his grave found in Sotkamo, as well as a statue "Havukka-ahon ajattelija' by artist Nina Terno and a memorial forest dedicated for him. The Huovinen society also arranges many kinds of annual activities. A replica of his study is open to the public in summertime where items from his original office can be viewed.
Veikko Huovinen society plans to further develop the study of Veikko Huovinen and offer year-round activities. New guided tours based on storytelling will be launched with partners. Connected to this process is also raising awareness of the forgotten writers Heikki Meriläinen and Viena Korhonen of Sotkamo.
Some Thoughts and Quotes of Veikko Huovinen
"I became a writer because when walking in the woods at a young age, I saw so many beautiful and exciting things. My first stories, that gained me experience on writing, were batch stories. As a young boy, I was strongly influenced by nature on my hunting trips. "
"Well I guess I became a writer when I was a young hunter and I got it in me to get up very early in the mornings. Many times, I sat on the doorstep of the barn, wondering about the rising sun… It was a peculiar feeling to walk into sleepy villages where the people did not know what was going on in the forest beside them. It felt like I alone owned something that should be shared with others."
"I seek to describe the people's core essence. Not to show them as puppets, nor as saints, but digging in somewhere in the area where good and evil collide. Life is full of satire. It is impossible to fit it into the framework of a small book as much as one would like. "
"Having written as much as I have, I know that books don't just change the world, but if they made you think, now that would be good."
"Basically, I am an optimist and I do not have it in me to understand why there are so many gloomy books these days. Rather should we grow smiles on people's faces."
 Contact Us:
https://www.spot-lit.eu/wp-content/uploads/huovishuone-avattu-23062020-web.jpg
579
1030
spot-lit-admin
https://www.spot-lit.eu/wp-content/themes/master/images/spotlit-npa-eu.png
spot-lit-admin
2020-07-02 12:27:12
2020-11-13 12:48:17
Veikko Huovinen Society