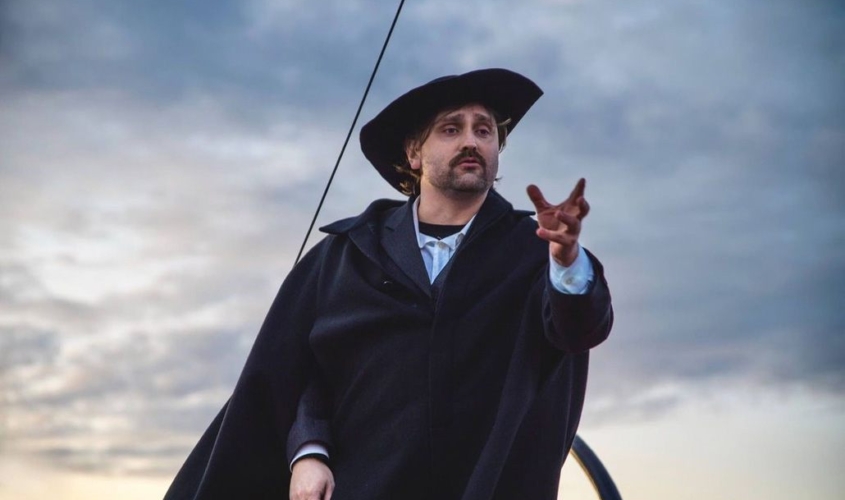 Would the Authors of Kainuu Transform into Tourism Products?
There is already a cruise product built around Eino Leino and more ideas evolving. But how could we utilize Ilmari Kianto, Veikko Huovinen and Lönnrot's Kalevala?
What would dinners hosted by Eino Leino look like, or Eino Leino reciting a poem to congratulate you on your birthday?
For example these ideas have been developed by the Vaara collective, being the most advanced party in commercialization of well-known Kainuu writers for tourism products.
Last fall, the collective organized a handful of Eino Leino cruises on the Kouta ship, where actor Sami Sainio from Kajaani took on the role of Eino Leino.
Next summer, there will be 12 open Eino Leino cruises, but on request the Kouta ship will depart for this  cruise at other times too. Groups of up to 30-40 people can book and the cruise ship which normally takes up to 60 passengers.
Veikko Leinonen, producer of the Vaara collective and director of the Eino Leino cruise, argues that with the smaller audience the atmosphere remains more intimate and that all passengers can hear what Leino is speaking about and the poems being recited on board.
As famous Eino Leino, Sami Sainio performs some of the poet's poems, he also remembers his childhood and occasionally comments on the current state of his soul landscape, sometimes quite passionately.
The cruise takes about 2.5 hours, but Eino Leino does not stay aboard the ship for all that time. For dramatic reasons he is "late" arriving  to the ship and rowing from the direction of Parkinniemi to catch the boat. He also leaves for the direction of Parkinniemi rowing into the darkening night.
– It was a very exciting, impressive experience, says Minna Komulainen, a specialist in the Spot-lit literary tourism project at Regional Council of Kainuu. She went for the Eino Leino cruise in the fall.
Leinonen cannot promise whether the performance next summer will be exactly the same as last fall. It changes depending of the situation. The presentation has also been modified a bit to be more functional. In any case, Leinonen promises the cruise to be an experience. It is a play, not that a man in a black cloak and a brimmed hat walking on board, acting as a guide to Leino's childhood and soul landscapes. The scenes are site-specific.
Similarly, the form of possible Leino-hosted dinners is still open. According to Leinonen, the Vaara collective are looking for a local restaurant as an organising partner. On the other hand, what could be the role of Leino, for example, at birthdays or weddings?
It is known that Leino did a great deal of practical poetry during his life, which was written even in the corner of a handkerchief if needed, so a congratulatory poem to a birthday hero or wedding couple would be quite natural to Leino.
Other Kainuu writers around whom cultural tourism is planned are Isa Asp, Ilmari Kianto and Veikko Huovinen, and of course, Elias Lönnrot and the Kalevala he gathered in Kainuu.
In connection with the international Spot-lit project, the Regional Council of Kainuu organized the first workshops in Kajaani, Sotkamo, Suomussalmi and Kuhmo in November and December. They attracted more than 100 people in total. More than 60 participants attended the second phase workshop in January. The third workshop will be organised in late February in Kajaani.
Before that, Komulainen together with a colleague Helena Aaltonen from Regional Council of Kainuu, and Sirpa and Markku Nieminen from Juminkeko foundation, will visit Scotland to look for models, ideas and thoughts on how writers have been utilized there in cultural tourism.
One destination they will visit is the Barrie Museum established in the childhood home of Scottish J.M. Barrie, the creator of Peter Pan. Komulainen tells that there are many famous writers in the Britain and Ireland and whose production has been commercialized, such as Irish playwright and poet Oscar Wilde. Or the famous platform 9¾ that has been built in London at Kings Cross Station based on J.K. Rowling's Harry Potter, to which there always is a queue. For a fee, people get their hands on a magic wand and a grasp of a scarf and then they jump … towards the brick wall.
Such a wild product might not be set in Kainuu, but many things could well be built around the Kalevala, for example. In addition, a literary festival rotating around the region has been discussed. Up to €10 000 can be awarded for promising product development ideas and at least five projects are expected to be supported.
WHAT is SPOT-LIT 
Spot-lit project
An international project aimed at developing literary tourism in Kainuu and the British Isles.
The project vision is to increase entrepreneurship and access of SMEs to wider markets.
The project highlights the area's interesting literary heritage through product development and marketing.
From Finland, Regional Council of Kainuu, Kajaani University of Applied Sciences and Lapland University of Applied Sciences are involved.
From  Ireland, Scotland and Northern Ireland.
The project implements eg. literary tourism development workshops.
The project launches a Literature Tourism Network.
The project produces a Kainuu mobile app where entrepreneurs can present their services.
The project produces a literature tourism development guide.
KAINUUN SANOMAT, regional newspaper CULTURE
Released: 4th February 2020 at 21:00
Taru Paavoseppä
Article in Finnish Language HERE
https://www.spot-lit.eu/wp-content/uploads/image-1.jpg
687
1030
spot-lit-admin
https://www.spot-lit.eu/wp-content/themes/master/images/spotlit-npa-eu.png
spot-lit-admin
2020-02-19 17:51:21
2020-02-24 12:05:27
Would the Authors of Kainuu Transform into Tourism Products?